Fuerteventura
18 – 25 March 2015
Special birds on an unusual island
The Canary Islands, with their near perfect climate, are a major holiday destination. However, for those who know where to look, away from the sun-seekers, the islands also offer plenty of interest to wildlife lovers. In particular, there is a range of birds and plants found nowhere else.
The outstanding island from a birdwatcher's point of view is Fuerteventura. Although the range of birds is quite low, the quality is high. It is the only home of the Canary Island chat, which has one of the most restricted ranges of any European bird and a total population of just a few hundred.
Fuerteventura's wide semi-desert landscapes and barren mountains are home to a number of desert birds. Fuerteventura is probably the best place in the world to see houbara bustard. Our leader is an expert on the houbara, and we have an excellent chance of seeing this rare and elusive species.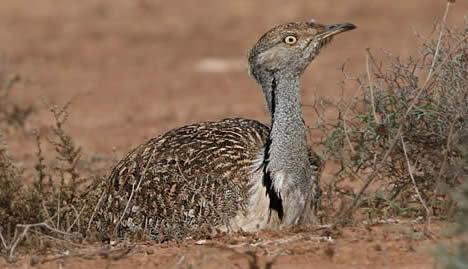 Houbara bustard. Bird photos on this page by Ray Purser.
Other desert birds include the delightful and sometimes very tame cream-coloured courser, black-bellied sandgrouse and trumpeter finch.
We will also visit the two small wetlands on the island where we can expect to see noisy flocks of ruddy shelducks. Waders are likely to include black-winged stilts and Kentish plovers, and there is a chance of seeing the endemic plain swift. With luck, we may chance upon a Barbary falcon, several pairs of which now nest on the island.
In the central mountains there are stunted pine forests where the lovely song of the canary is heard, and African blue tits hunt for caterpillars.
There are oases of greenery where hoopoes are often common, and at this time of year such places attract a range of migrant passerines. The endemic Berthelot's pipits are common, and if migration conditions are right almost anything is possible.
The wild coastline at Cotillo offers the chance to see shore birds, and at dusk large numbers of Cory's shearwaters close to shore.
This holiday will be of particular interest to birdwatchers, but the unusual flora and butterflies are bound to distract us from time to time.
We stay at the Oasis Casa Vieja Hotel near La Oliva, inland and away from the coastal holiday resorts.