Istria 14

—

21 May 2018 *
A week in peninsula Istria (Croatia)
At the crossroads of the Balkans, Central Europe and the Mediterranean, Istria has a fascinating history, geology, flora and fauna. In a relatively small area (about 4000 km2) one passes from a rocky coastline and a strip of Mediterranean scrub and woodland through areas of low-intensity agriculture rich in wild flowers and farmland birds.
Away from the coast, the land rises to 1000m or more above sea level with broad submontane grasslands, limestone gorges and splendid beechwoods. Beyond the Limski Kanal, a fjord-like inlet that separates northern and southern Istria, climatic conditions are similar to those found farther south in Greece and Southern Italy.
The limestone mountains of the interior are still wild and sparsely populated by Albanian and Romanian communities brought in as colonists by the Austrians and Venetians during the Middle Ages, following depopulation caused by outbreaks of the plague. As elsewhere in the flower-rich Karst, limestone areas are peppered with remarkable dolinas (swallow-holes) where the roofs of caves have collapsed, leaving hollows with their own micro-climate with a curious mixture of alpine, western European, Balkan and Mediterranean flowers.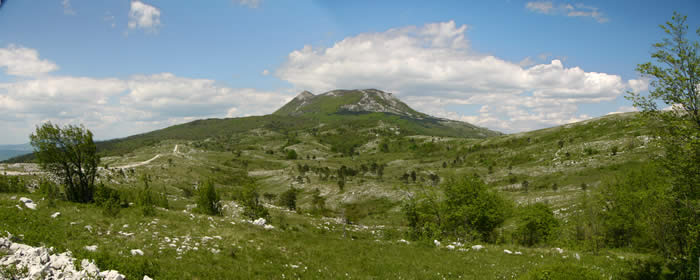 Mount Učka (Ivan Nethercoat)
Birds
Mediterranean birds are well represented with subalpine and Sardinian warblers, bee-eaters, hoopoes and alpine swifts. Scops owls are abundant. Black-headed bunting is near the northwestern edge of its distribution, and fieldfare at its southern limit. Limestone cliffs and gorges are breeding grounds for blue rock thrush, eagle owl and several pairs of golden eagles. The forests have honey buzzards and goshawks and interesting woodpeckers: black, lesser spotted and grey-headed are at our base. Griffon vultures from nearby colonies on the island of Cres often put in an appearance. Wetlands are rather scarce and isolated, but there are a few such as Il Palù south of Rovigno, along the river Mirna close to the hotel and the large salinas at Sečovlje on the border between Slovenia and Croatia.
Flowers
Istria's flora is a fascinating mix of Mediterranean, Balkan, subalpine and northern communities. Mediterranean maquis dominates the coast including myrtle, various species of cistus, wild sage, evergreen oak and tree heath along with terebinth and mastic trees, though the composition of the community varies greatly with geology.
Moving away from the coast, and up in terms of altitude, average annual temperatures drop rapidly, allowing the appearance of northern, subalpine and even a few true alpine species. The grasslands of upper Istria are notable for their floral displays in April and May. Fields and verges are awash with orchids, especially green-winged in purple swathes set among cow-wheat, rattle and occasional round-headed orchids.
Other wildlife
Butterflies abound throughout Istria. In May, large tortoiseshell, black-veined white and swallowtails are present, along with a range of blues and fritillaries. Mediterranean Istria has a wide range of other wildlife including Hermann's tortoise and the ophisaurus, Europe's largest lizard, not unlike a giant slow-worm. Inland, the cooler and heavily forested Upper Istria has few human inhabitants and is home to wolves, lynx and brown bear.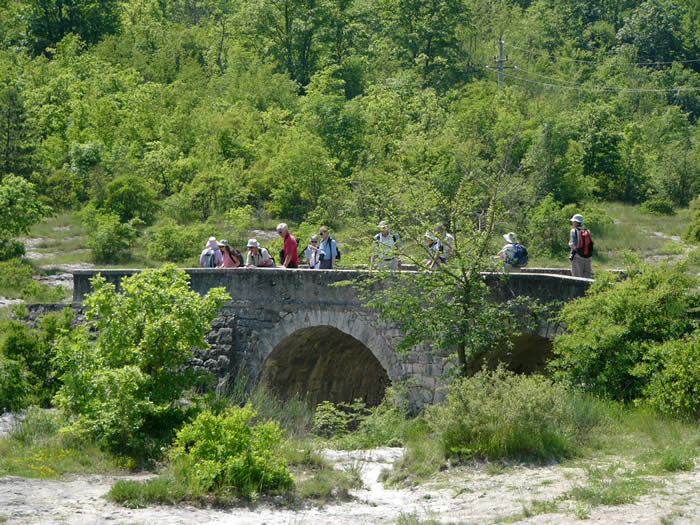 Bridge at Floricici (Ivan Nethercoat)
Holiday details
All of this is less than ninety minutes from, for Honeyguide, our rather untypical base at the modern Hotel Mirna at the spa of Istarske Toplice. Perfectly located in central-northern Istria, in Croatia, it is close to the Slovenian border and about 40 minutes from Italy. Its extensive grounds are alongside the river Mirna oakwoods, fought over by the Venetians and Austrians for their timber and notable for their white truffle production. The rare Tommasini's sandwort grows here, above the holiday complex, one of just six known sites. The area is also rich in bird life and perfect for early morning walks.
The large hotel pool, fitness room, sauna and massage facilities will be available to participants who fancy a swim before dinner or a day spent in the hotel just enjoying the facilities.
Two or three days will be spent on local walks in the varied landscape around the hotel, mixed with a visit to the nearby coastal salinas at Sečovlje. We will also visit the extreme southern tip of Istria, Punta Prematura and Kamenjak, with its Mediterranean flora and fauna, the seas around which support the Adriatic's only known (and tiny) colony of the critically endangered monk seal. Trips will include visits to Mt Taiano and Mt Učka for alpine flowers and birds including rock partridge and ortolan bunting.
Price: £1,500 per person in twin room for seven nights (Monday to Monday)
Single room supplement: £120
En suite facilities.
Flights: Scheduled Ryanair flights, Stansted to Trieste.
Deposit: £300
Maximum number: 14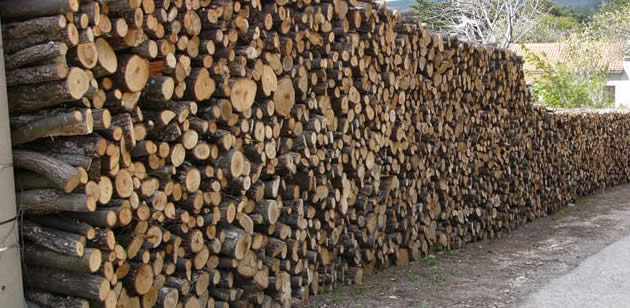 A whole lotta logs (Ivan Nethercoat).
Conservation project
BirdLife Slovenia (DOPPS) – the northern part of Istria is in Slovenia – is working hard to protect natural areas, especially wetlands. It also runs projects for endangered species, in particular roller and the globally threatened corncrake and lesser kestrel.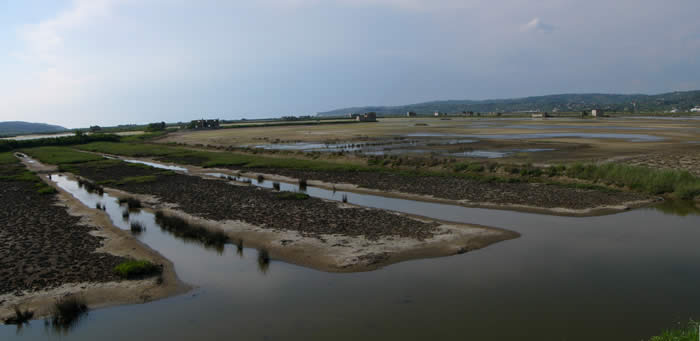 Sicciole saltpans on the Croatia/Slovenia border (Ivan Nethercoat)
Tommasini's sandwort
A rare plant means that our base at Istarske Toplice is now part of the Natura 2000 network of internationally important wildlife sites.
Tommasini's sandwort Moehringia tommasinii grows in one of its six known sites above the holiday complex. It was proposed as a Site of Community Importance (SCI) in 2013.
The Nature 2000 website (here) says:
"Quality and Importance: the only site for Moehringia tommasinii in Croatia, and one of only two localities with recently confirmed populations.

"The site is situated on the northern part of Istria peninsula, above Istarske toplice (Istrian thermal springs). Area includes rock and cliffs with garrigue, macchia [maquis] and wood. The site also includes part of protected area - Significant landscape Istarske toplice."

Moehringia tommasinii featured on a set of stamps in Slovenia in 2007.
Main leader
Paul Tout lives on the Italy/Slovenia border. Originally from Hertfordshire, until recently he managed a botanic garden and now works as a translator, tourist guide and naturalist. He's been a Honeyguide leader for many years in his local area and here in nearby Istria, and has a fund of knowledge about central-eastern Europe and its wildlife. There are photos from Paul Tout on Twitter as Adria Wildlife.
And if numbers on the holiday take us into two leader territory:
Domen Stanic is an Italian-Slovenian biologist discovering and enjoying wildlife in Slovenia and the Adriatic region. His fieldwork is mainly concentrated on birds and plants, but he has a wider interest in other local wildlife and nature. He is also an outstanding wildlife photographer and you can see many of his photos and observations on his blog and Wild Slovenia website.