Algarve & Alentejo
10 — 17 November 2023
Autumn wildlife in south Portugal
Superb coastal wetlands, craggy cliffs and extensive plains: the south of Portugal offers first-class birdwatching in a comfortable climate.
Autumn sees an appealing mix of residents, winter visitors and migrant birds, some moving along the coast or towards their winter quarters in Africa.
This holiday, in Algarve and Alentejo, incorporates a mixture of wetlands, coastal cliffs, oak forest, dry grassland and hilly areas. Highlights could include Iberian specialities, like black-shouldered kite, great and little bustards, black-bellied sandgrouse and azure-winged magpie, plus plenty of other wildlife and beautiful landscapes.
By staying inland and on the protected west coast, we can enjoy the undeveloped Algarve, moving past the better known beaches and golf courses, and head into the extensive grasslands of the remote Alentejo.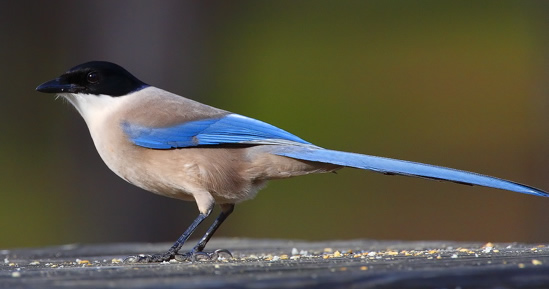 Azure-winged magpie (Steve Fletcher)
Barrocal, coast and Alentejo
At Alte, birdwatching in the traditional farmland areas of the limestone Barrocal may yield short-toed and Bonelli's eagle, little owl, hoopoe and woodlark. The classified site of Rocha da Pena is a magnificent natural monument of great beauty. Scrub here may hold southern European birds such as southern grey shrikes, Dartford and Sardinian warblers, cirl and rock buntings, and blue rock thrush on the cliffs.
Migratory or late summer butterflies, like small copper, long-tailed and Lang's short-tailed blues and painted lady could still be on the wing. At nearby Benémola spring, one of the few permanent streams in the Algarve, we can look for seasonal dragonflies, like western willow spreadwing, epaulet skimmer and red-veined darter.
Castro Marim Nature Reserve, in the Guadiana estuary near the border with Spain, has extensive marshes and salinas. Waders should include black-winged stilt, avocet and Kentish plovers, plus many migrants from the Arctic. Other waterbirds likely are good numbers of greater flamingos, spoonbill and egrets, and late terns could include Caspian.
At Ria Formosa Nature Park, at Quinta do Lago, the mudflats and lagoons of the area have a variety of waterbirds including specialities like purple gallinule, little bittern and red-crested pochard. Other unusual wildlife, like fiddler crabs and European chameleon, can be seen.
Another excellent coastal site is Salgados lagoon near Pêra. This small coastal lagoon can be crowded with migratory waterbirds.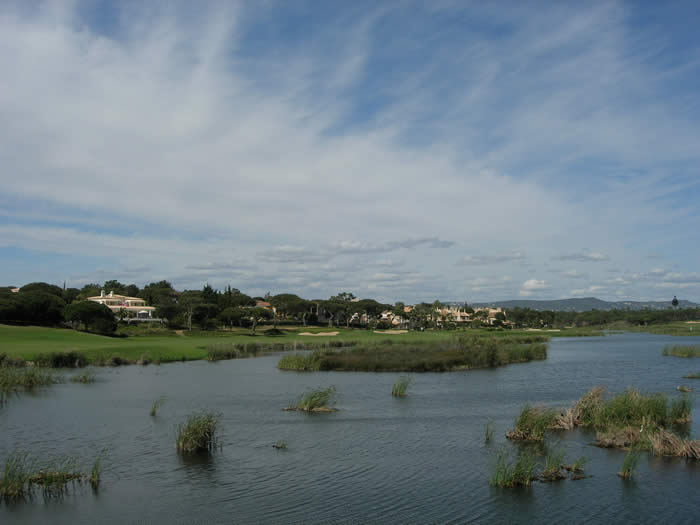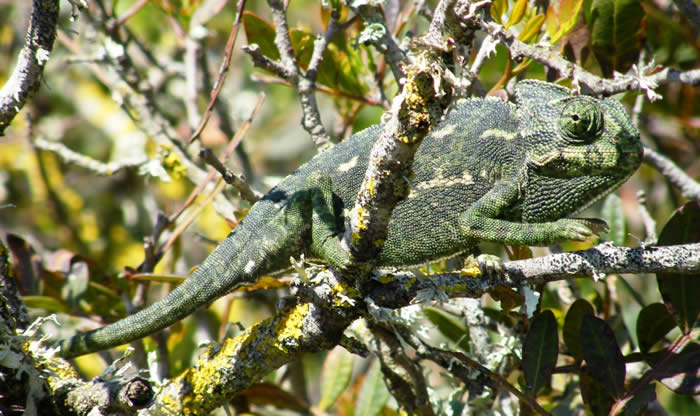 Lagoon at Ria Formosa; chameleon (Domingos Leitão).
Castro Verde Special Protection Area, in Alentejo, is the most important dry-grassland area in Portugal. During the day we explore the dry grasslands, which support more than 1,000 great bustards. Birds of prey can be outstanding here, including griffon and black vultures, golden and Spanish imperial eagles. Other grassland birds include little bustard, black-bellied sandgrouse and stone-curlew. Larks include calandra and Thekla, and Spanish sparrows occur in flocks.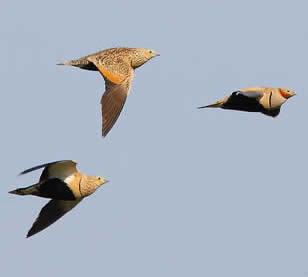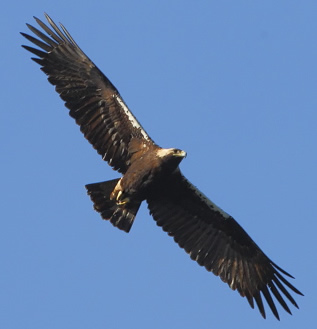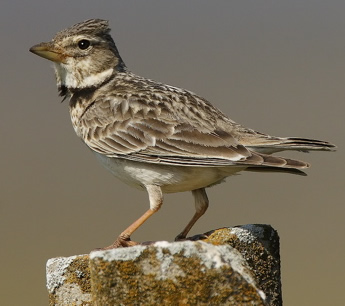 Black-bellied sandgrouse, Spanish imperial eagle, calandra lark (all by Steve Fletcher)
Atlantic Algarve
The second part of this holiday is based at Sagres in the far west of Algarve. Our route takes us via Monchique, the highest mountain in Algarve, and the greener landscape will attract passerines, butterflies and dragonflies.
The peninsula of Sagres includes Cape São Vicente, the extreme south-western point of continental Europe, from which seabird passage could include shearwaters, gannets, skuas and terns. The scrub and grassland above the impressive sea cliffs hold passerines and counts show a concentration of migrant raptors, though you have to be lucky, in the right place at the right time, to see them.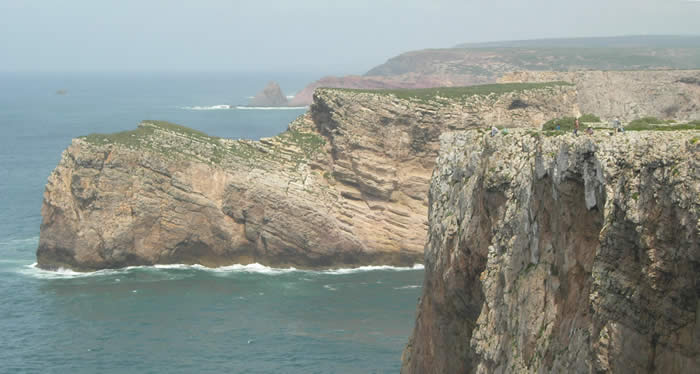 Cape St Vincent
Autumn flowers can include autumn crocus, autumn and sea squills and autumn snowflake.
Holiday details
Our bases are the three-star Alte Hotel (5 nights), located outside the village of Alte, surrounded by small fields and Mediterranean scrub, and Hotel Mira Sagres (2 nights), in the small town of Vila do Bispo.
Price: £1,600 per person in twin room for a week (Friday to Friday)
Single room supplement: £175
En suite facilities.
Flights: Jet2 flights, London Stansted to Faro. There may be other flights possible from elsewhere in the UK.
Friday 10 November : flight LS1439 depart London Stansted 08:00 arrive Faro 10:50 (Flight duration 2 hrs 50 mins direct)
Friday 17 November: flight LS1440 depart Faro 11:40 arrive Stansted 14:35 (Flight duration 2 hrs 55 mins direct)
This is a change from previous plans, on account of big changes to Ryanair's flight schedules, which we previously planned to use.
Deposit: £400
Maximum numbers: (two leaders): 14
Leaders
Chris Durdin (more about Chris on our Crete page).
The holiday is run in partnership with SPEA, the Portuguese BirdLife partner. The SPEA leader will Domingos Leitão, who is SPEA's Executive Director, and has led several of our Portuguese holidays. We lucky to have Domingos as his senior position means a busy diary, though we know he enjoys being in the field.
Conservation project
Sociedade Portuguesa para o Estudo das Aves (SPEA, BirdLife in Portugal) will receive our donation, and SPEA advises on a current priority project for funding. In 2023 we are a sponsor of the 11th Congress of Ornithology of SPEA, 22-26 November, in Ponta Delgada University (Azores). This is a major science and conservation event that SPEA used to organise every third year. The last time, the 10th, was in 2018, and because of the pandemic, the 11th was postponed to this year. More on:  https://spea.pt/congresso-de-ornitologia-2023/
Previously (2019) we supported the promotion of SPEA in the Algarve, namely funding a stand that, with the help of a local group of supporters, SPEA says will: "increase our street actions to promote and raise awareness about SPEA's work in the Algarve. We need more members everywhere, but especially in the Algarve, where there are still lots of damaging developments to fight against."
The donation in November 2017 was directed to SPEA's Marine Conservation Department, to a campaign against oil drilling off-shore by the Algarve coast. New release and news coverage here.

Donations in Portugal for the holiday here in November 2015 supported campaigning against the illegal capture and sale of wild birds - more about that in our news release here. Also more on previous projects and Honeyguide's links with SPEA) here.

SUPPORTING