South Africa's Garden Route

Plus big game in the Addo Elephant National Park


Featherbed nature reserve, Cape bunting (Geoff Crane)
The 'Garden Route': beautiful sweeping beaches and coastal wetlands on South Africa's south coast. It's the final destination of many migrating birds from Europe, where they mingle with African birds near whales and Cape fur seals by the shore.
The Addo Elephant National Park was set up to protect the last elephants and Cape buffalos in the southern part of South Africa. It now has all the mammals originally found here, plus some 200 bird species.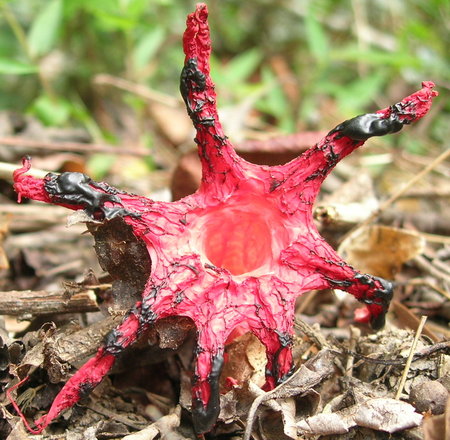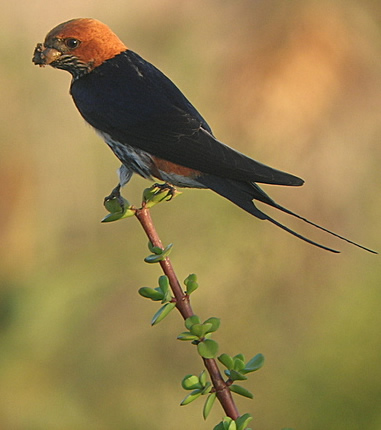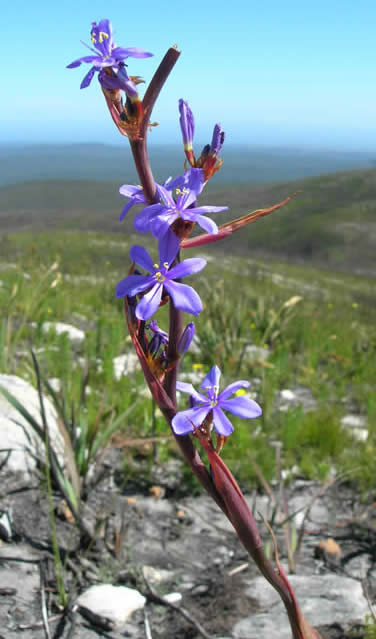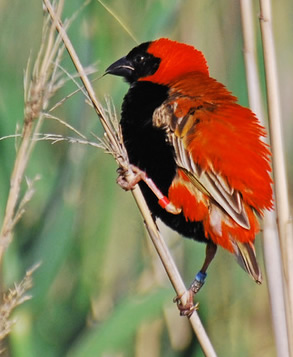 Stink horn fungus Aserae rubra, lesser striped swallow; Aristea confusa; red bishop (Rob May).
Together they make a superb combination of the best of South Africa's wildlife, set in an easy to explore and malaria-free area.
The holiday will be based on two centres, eight nights in the Garden Route based just outside Plettenberg Bay (see holiday details) and five nights at the Addo Elephant National Park. Two further nights will be spent on overnight flights from the UK to Port Elizabeth via Johannesburg and back.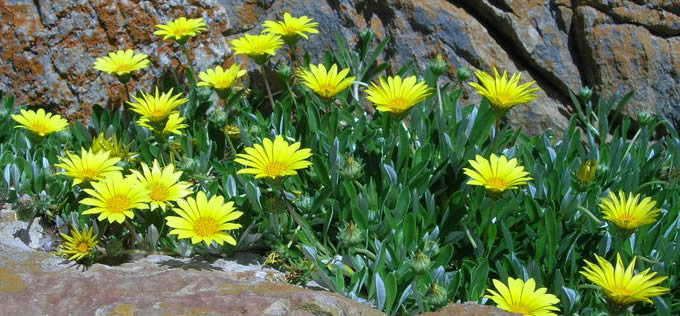 Strand gazanias, Featherbed Nature Reserve
The Garden Route
Indigenous forests, a rugged coastline, wetlands, mountains, rivers and hidden coves hint at the range of wildlife to be enjoyed on the Garden Route.
The beautiful coastline of the Robberg Peninsula is a red sandstone promontory. Its rugged coastline and high cliffs is a favourite venue for naturalists. Southern right whales, dolphins, Cape fur seals and seabirds are seen from the cliff tops, while in among the coastal fynbos there are rock hyraxes and agama lizards. Archaeological digs are revealing interesting facts about the early inhabitants (700BC) of the peninsula.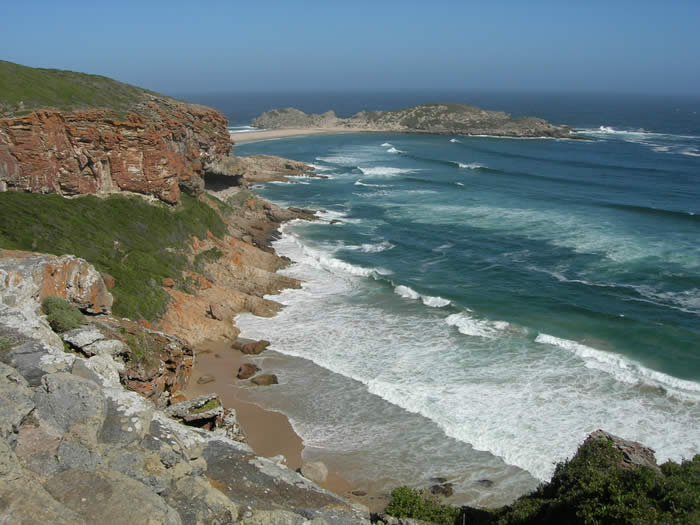 Robberg peninsula
Nature reserves have mighty Outeniqua yellowwood trees, as well as milkwood and many other indigenous trees and plants, plus many forest birds. Diepwalle Forest has the last few remaining forest elephants, though the chance of seeing one of these great animals is slim. Birds include Narina trogon, African emerald cuckoo, green wood hoopoe and Knysna woodpecker. Above the forest towards the Spitskop Peak we will be out of the forest and into fynbos, a chance to do some botanising.
On a leisurely boat trip up the Keurbooms River we look out for kingfishers, fish eagles and darters, while the boat takes us into the forest. Much of the area is the Tsitsikamma National Park, where the indigenous forest and the Indian Ocean meet. Knysna turaco, Cape batis and chorister robin are three of many forest birds.
The Millwood Forest settlement was once a large gold mining town, now fast disappearing into the forest. Old rusting machinery and ruins show what the settlement once was. It's a good area for birdwatching, with blue-mantled crested flycatcher and terrestrial brownbul among many others.
| | |
| --- | --- |
| | An early start for a day trip to Oudtshoorn, the ostrich capital of the world. The Cango Caves, one of South Africa's greatest natural wonders, has stalactites, stalagmites and helictites. |
Craggy mountain scenery at the Swartberg Pass includes 'montain fynbos'. Up at this high altitude there are many of the protea family that survive the snow in winter and heat in summer. This mountain range of beautiful vistas and twisted strata separates the Great Karoo from the Little Karoo. Cape rock-jumper, Victorin's warbler, Cape siskin and orange-breasted sunbirds are a few of the special birds to look out for.
In Knysna Lagoon National Park by the Indian Ocean, tidal mudflats attract herons and migrating waders. We also walk at the Featherbed nature reserve, which is only accessible by boat.
Addo Elephant National Park
The Addo Elephant National Park is renowned for its impressive herds of elephants, but with selective re-introductions now has the full spectrum of wildlife originally found in the area, including lion, black rhino, leopard and Cape buffalo, as well as Burchell's zebra, eland, red hartebeest, warthog and kudu. Smaller mammals may be sighted with a little patience, including yellow mongoose and meerkats.
Raptos include pale chanting goshawk and jackal buzzard, and grassland has Denham's bustard, black korhaan, blue crane and secretary bird. Black-backed jackal, scrub hare and porcupine are best seen on a night drives, an optional extra, with luck along with owls, spotted thick-knees and nightjars. We take regular game drives within the park, but there is also a lot to see on foot around the accommodation.
A hide overlooks an active water hole where, when floodlit at night, it attracts water dikkop (like a stone-curlew) as well as mammals. There can be lesser honeyguide in the trees and lesser striped swallows around the accommodation. Another hide overlooks a pond, which is good for black crake, southern red bishop and weavers. The Zuurberg Mountains are home to some fascinating plants.
The Zuurberg cycad Encephalartos longifolius and the Zuurberg hunchback Oldenburgia arbusculaare two to look for. In the arid lands of the Karoo, birds, mammals and reptiles have adapted to the harsh climate.


Karoo gold
Holiday details (2013)
Price: £3,950 per person in twin room for 13 nights plus two travelling days (Thursday to Friday)
Single room supplement: £400
En suite facilities.
Flights: Scheduled flights, London to Port Elizabeth via Johannesburg
Deposit: £400
Number: minimum of 3, maximum 13
Accommodation in the Garden Route: this depends on numbers, and will either be Bitou River Lodge or Coral Tree Cottages, the latter being where we stayed in 2009. We stay at the main rest camp at Addo or Zuurberg Mountain Village, a four star Lodge 15km from the entrance to the National Park.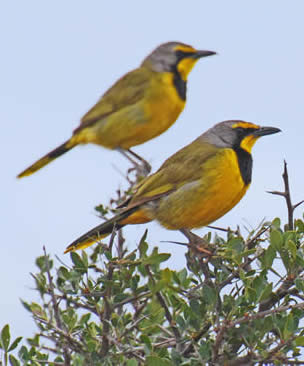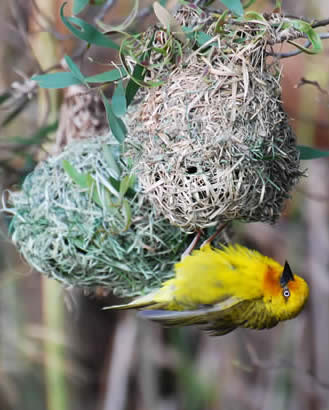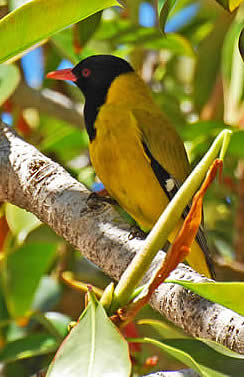 Bokmakierie, Cape weaver, black-headed oriole (all by Rob May).
Leaders
Geoff Crane is the man behind Crane's Cape Tours & Travel, both local leaders and ground agents for Honeyguide in South Africa. An experienced guide himself, he co-leads all Honeyguide's holidays in South Africa.
Mike Raymaker has led tours and worked as a nature guide for Crane's Cape Tours & Travel on many occasions. With 15 years guiding experience in South Africa, his general knowledge of anthropology, botany, geology and ornithology is excellent, particularly with regard to the complex ecological roles that the plants, birds, insects and mammals play. He now lives in New Zealand, but spends several months each year as a guide in South Africa.

More about Crane's Cape Tours & Travel visit www.naturalhistorytours.co.za
Conservation project
The second South African Bird Atlas Project (SABAP2) is one of the most intensive monitoring programmes ever undertaken in South Africa. Many areas are difficult to access but critically need atlas work and ongoing monitoring work for BirdLife South Africa to understand the bird conservation challenges in these remote sites.
_______________________
Honeyguide supports South African Bird Atlas. The SABAP2 website (the full story is here) explains how Honeyguide's Garden Route holiday in 2009 supported the project, on that occasion raising £542 (approx 7200 rands) for SABAP2.
You can view a brief (eight slides) summary of year-by-year progress here.