NWT Thorpe Marshes
The marshes flooded at high tide earlier this month, much as they did in early December (see photos below). That water has gone, though wellies essential. 12 January 2022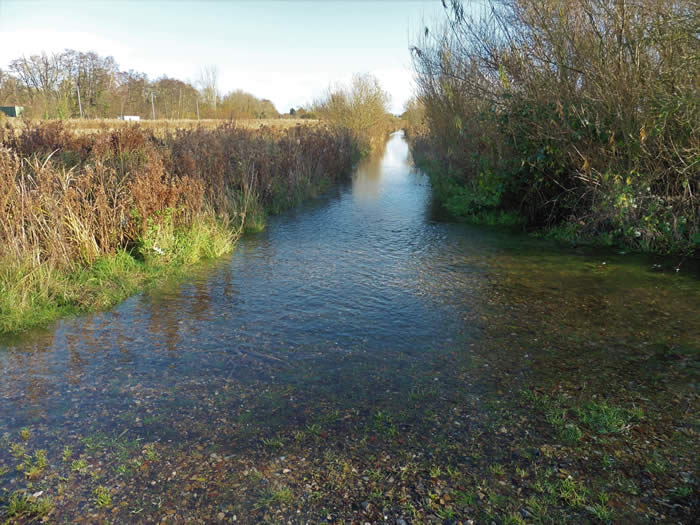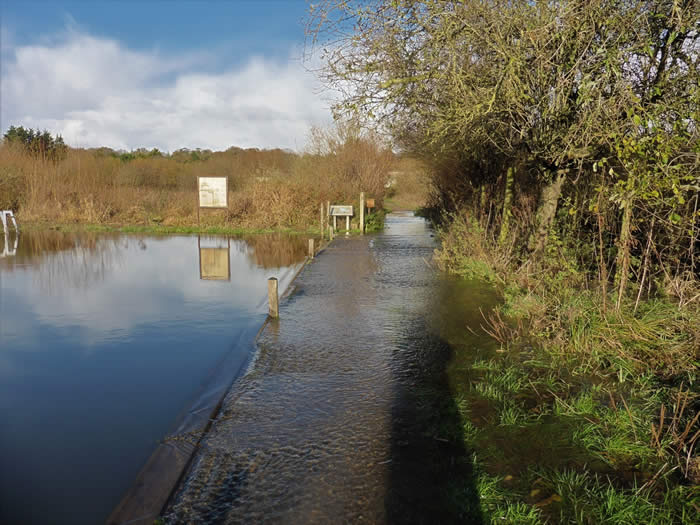 Flooding, 2 December 2021.
WildWalks: NWT is encouraging wildlife recording with a special focus on Thorpe Marshes and Upton Broad & Marshes for April 2021 to March 2022. More information on the project and how to take part on the NWT WildWalks webpage.
Blogs list in the right hand column.
Thorpe St Andrew Marshes – NWT Thorpe Marshes for short – is one of the Norfolk Wildlife Trust's newest nature reserves, established in 2011. It's in the Norfolk Broads yet on the edge of Norwich in Thorpe St Andrew. It also happens to be my local patch – just down the road from home and the Honeyguide office, writes Chris Durdin.
Winter — December to February: it can be quiet at times, especially in December. The refuge value for birds of the marshes and and especially the broad increases when it's cold. Tufted ducks normally outnumber pochards. Teal and snipe numbers vary, and sometimes a scarcer duck like a goosander or goldeneye appears. Cetti's warblers often sing; wintering stonechats may be on show; a water rail often calls.

 
Tufted ducks (mostly), pochards, gadwalls, 24 January 2018 (Derek Longe).
Publications about NWT Thorpe Marshes
NEW: James Emerson's The Birds of Whitlingham & Thorpe 2021. This includes bird records for NWT Thorpe Marshes in 2021 and reports on the little gulls regularly at Thorpe Marshes in March-April 2021.
Updated version (June 2020) of Dragonflies and Damselflies of the Whitlingham Area, which has a lot of records and photos from Thorpe Marshes. Report on spiders and related species (April 2020): Arachnids of the Whitlingham area by James Emerson, also includes records and photos from NWT Thorpe Marshes.
The Thorpe Marshes wildlife report for 2018-19 includes a range of wildlife records, a review of the year and other activities on the nature reserve.
Key bird records for NWT Thorpe Marshes in 2019 are in James Emerson's The Birds of Whitlingham & Thorpe 2019, which includes Thorpe Marshes reserve in the area it covers.
There are also Thorpe Marshes wildlife reports for 2012-2017 and previous Whitlingham/Bird bird reports. For these, scroll down to 'Wildlife reports & guide'.
Local history
These two blogs give an insight into Thorpe Marshes in the 1960s.
Thorpe Marshes in the 1960s (January 2018) and Thorpe Marshes in the 1960s part 2 (April 2018).
Willow Emerald damselflies
Thorpe Marshes is a great place to see this damselfly in season (late July to October) and to discover more. Willow Emerald egg-laying scars are clear if you know where to look throughout the winter. A local discovery at Thorpe Marshes (January 2018) is Willow Emerald egg-laying scars on domestic apple - a first for the UK. More about this and other unusual places for scars here.
Blogs about Willow Emeralds:
■ What are the chances of that happening? (August 2017) [by Derek Longe].
■ Pretty damsels (September 2016).
■ Willow Emeralds return to Thorpe Marshes (October 2015).
■ A Gem of an Emerald (September 2014).
Gallery of photos of dragonflies and damselflies of NWT Thorpe Marshes on Facebook here includes several Willow Emeralds. A Willow Emerald at Thorpe Marshes on 6 November 2017 appears to be have been the last sighting for 2017 in the UK.
Willow Emerald Damselfly paper, featuring Thorpe Marshes: "WILLOW EMERALD DAMSELFLY CHALCOLESTES VIRIDIS OVIPOSITING INTO BRAMBLE" by Derek Longe (10MB pdf). In Atropos Issue 58, 2017, and is reproduced here with the kind permission of the editor. See also Derek's NWT blog. Autumnwatch's feature on Willow Emeralds is here on YouTube - the piece on Willow Emeralds starts at 16:26.
Recent sightings
2022
12 January, guided walk: great white egret flying west over the railway bridge, c.10:15. Cetti's warblers & 2 water rails heard. Flock of 30 teals plus a few on the broad's edges, 1 male shoveler, tufted ducks and gadwalls. Herons, cormorants. Good views of perched male kestrel and green woodpecker.
11 January: ring-necked parakeet from the reserve, just beyond the railway line. Male reed bunting. A scattering of gadwalls and tufted ducks.
2021
30 December: 2 stonechats, c.20 siskins, 18 teals in flight.
23 December: 50 fieldfares flying west along Yare Valley, c.100 siskins in flock, riverside trees of Whitlingham CP. Influx of ducks: c.250 tufted ducks, 50 gadwalls, 1 teal (at least). Green & great spotted woodpeckers.
17 December, guided walk on a misty morning: flock of goldfinches, flock of c.60 siskins across the river, water rails heard in 3 places, snipe, Cetti's warbler heard, wren singing, bullfinch, heron, cormorants, gadwalls. Surprisingly good day for fungi: jelly ear, King Alfred's cakes, coltsfoot rust (as pictured earlier this month) yellow brain, sycamore tar spot and velvet shank.


Tiny fungi on a stump (ash?), probably velvet shank, early stages of this winter species.
16 December: Chinese water deer. 2 water rails calling, 2 Cetti's warblers singing.
15 December: 2 stonechats. Great crested grebe, 3 tufted ducks.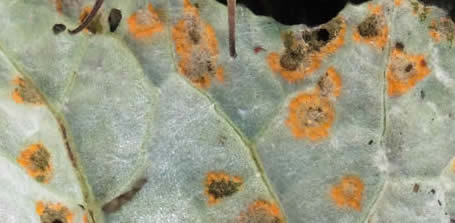 Coltsfoot rust Coleosporium tussilaginis
14 December: stonechat, reed bunting, green and great spotted wodpeckers. Singing Cetti's warbler and dunnock; water rail called. A few gadwalls.
7 December: 11 tufted ducks, a few gadwalls. Flock of c.60 siskins. Kestrel.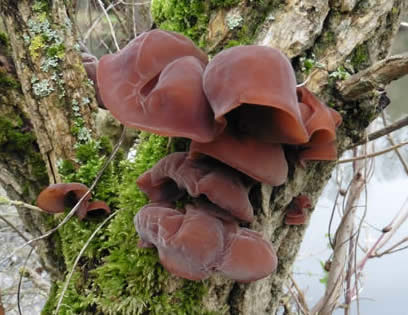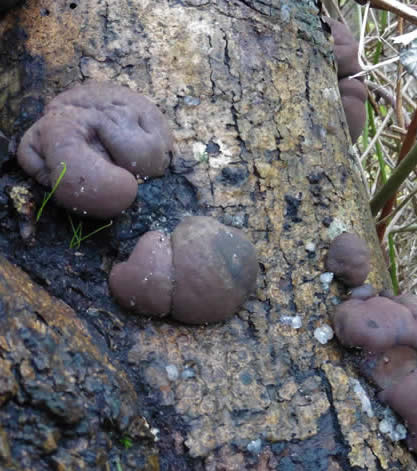 Two fungi, 7 December: jelly ear on elder and King Alfred's cakes on ash.
29 November: 20 tufted ducks, 13 gadwalls. Water rail and siskin heard.
23 November: two stonechats, male and female. Water rail called; singing Cetti's warbler, robin and wren. 14 gadwalls the only ducks, cormorant. Mixed flock of long-tailed and blue tits. No late dragonfly in the sunshine.
9 November: male stonechat. Willow emerald damselfly, by open ditch opposite eduction area gates. Latest ever record for Thorpe Marshes (previous latest was 6 November 2017). To be expected this warm autumn. Common darters.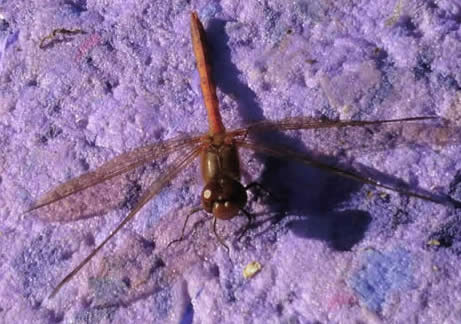 Common darter, 9 Nov 2021. Weird background is rubbish from a riverside boat.
3 November, guided walk: several groups of starlings and one redwing flock flying west along the Yare Valley. Cetti's warbler and wren singing. Tufted ducks, gadwalls and mallards on the broad, plus cormorant and heron. Pair of stonechats, great spotted woodpecker. Too misty for insect life. Spindle and guelder rose in fruit, late cow parsley in flower.
2 November: male stonechat, 2 buzzards, 12 tufted ducks. Heard water rail, Cetti's warbler and chiffchaff contact call. Male migrant hawker and several common darters, including two pairs in tandem; several caddis-flies.
30 October: livestock have left, having arrived on 21 September. 2 stonechats, 30 tufted ducks.
19 October: 2 stonechats.
9 October: male stonechat, 3 tufted ducks on the broad. Scores of caddis-flies. Chiffchaff contact call heard again.
5 October, guided walk, dry with occasional sunshine missing early and late rain today: great spotted woodpecker, mistle thrush, Cetti's warbler singing, 3 meadow pipits (first of winter), chiffchaff contact call heard. Lots of caddis-flies when it was sunny. Knot grass moth caterpillar.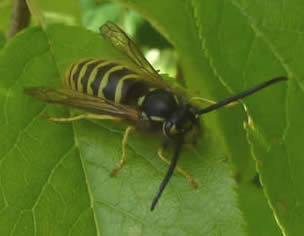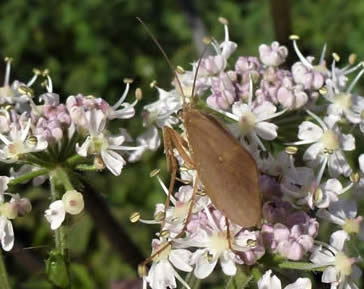 Unusual wasp: best fit seems to be tree wasp Dolichovespula sylvestris. Hogweed with caddis-fly, one of the cinnamon sedge types.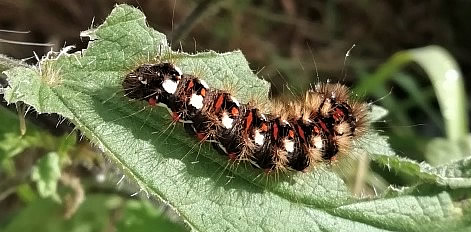 Knot grass moth caterpillar (Neil Rogers). Larval food plants include plantain, dock, knotgrass, bramble, sallows and hawthorn.
1 October: 2 stonechats. Chiffchaff with mixed tit flock.
24 September: water rail walking across the path. Cetti's warbler singing. Willow emeralds, common darters, migrant hawkers.
21 September: NWT cows have arrived.
13 September, guided walk: 2 little egrets, great spotted woodpecker. Painted lady. Migrant hawker, common & ruddy darters, mating pair of willow emeralds. Several ivy bees on ivy in Whitlingham Lane. Lots of flowers, including greater water parsnip in seed, nodding bur marigold and skullcap.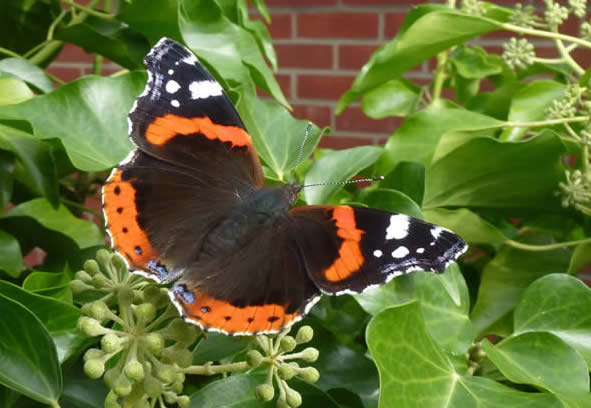 A season of numerous, perfect red admirals: this one (13/9) on ivy in Whitlingham Lane.
4 September: 3 teals (MB).
26 August: count of 13 flowering/seeding plants of greater water parsnip. Migrant hawker, gatekeeper, both a surprise on such a cloudy day.
12 August, NWT guided walk: common lizard on railway bridge step. Common sandpiper, brief view over R Yare. A great show of flowers (like those above). Too overcast for many butterflies or odonata.
9 August: green and great spotted woodpeckers. 5 lapwings, 1 little egret. 12 flowering plants of greater water parsnip, a success from last year's introduction project (see news in right hand column).
5 July: red kite overhead. Stonechats, still some song from sedge, reed and Cetti's warblers and whitethroats. Thick-legged flower beetle. Guided walk for RSPB Norwich Local Group visit.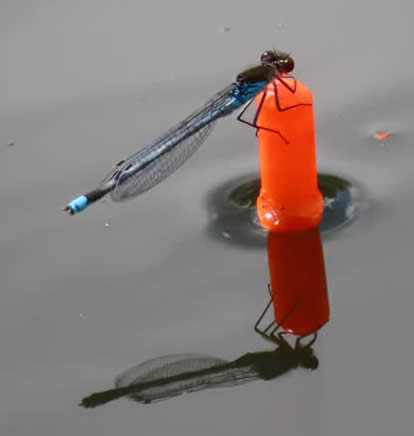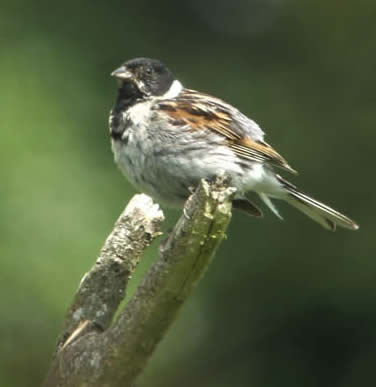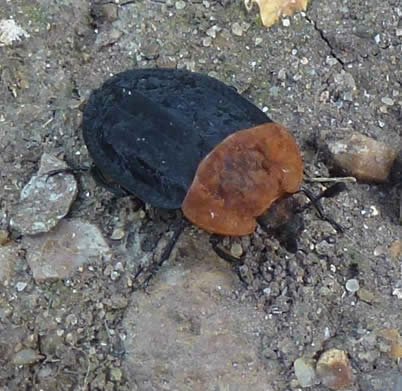 Red-eyed damselfly on fishing float (Doug Arkell); reed bunting; carrion beetle Oiceoptoma thoracium, all on 5 July.
25 June: male marsh harrier, singing grasshopper warbler, two juvenile stonechats. Meadow-rue and meadowsweet both in flower.
15 June: at least two juvenile stonechats. Norfolk hawkers and black-tailed skimmers in good numbers. Valerian is in flower, as are water soldiers.
7 June: three juvenile stonechats.
4 June: first red-eyed damselflies on vegetation in River Yare. Two pairs of mute swans with cygnets: 2 cygnets on St Andrew's Broad, 3 on the river.
28 May, NWT event: stonechats with two recently fledged young. Now we know why the stonechats have stayed - which is unusual on a marsh. 2 common sandpipers over St Andrew's Broad, 1 lapwing, male marsh harrier. Garden warbler by railway bridge. Large red damselfly.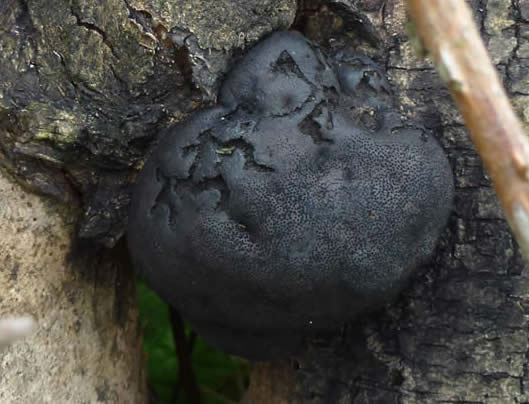 King Alfred's cakes (fungus) on a dead ash by the river, 24 May
24 May, guided walk: eight warbler species and the ninth (grasshopper warbler) heard by an early arrival. Buzzards, 2 stonechats. Hairy dragonfly, red soldier beetle.
16 May: 2 stonechats still (also yesterday), silent cuckoo, male marsh harrier reported, grasshopper warbler (evening).
6 May, guided walk in the rain: common sandpiper on river, c.50 swallows over St Andrews Broad and perching on dead ashes, swifts, usual warblers including grasshopper warbler.
3 May: red kite over; pair of stonechats, swifts mingling with swallows, grasshopper warblers singing mid-morning.
30 April: sightings of little gull at Whilingham CP and Thorpe Marshes (DL, SW on WhatsApp).
29 April, NWT guided walk: grasshopper warbler singing for the first to arrive; Cetti's, sedge & reed warblers and whitethroats among other warblers. Common terns, 3 hirundine species, kingfisher, still 37 late-staying tufted ducks.
27 April: stonechats still here. Reed warblers singing in two places, ditto grasshopper warbler in the middle of the day. Garden warbler heard (SW).
26 April: male and female stonechat! 7 warbler species: Cetti's warbler in view for a change, whitethroats, sedge warblers, brief burst of grasshopper warbler, willow warbler, chiffchaff, blackcap. 5 common terns, 110 black-headed gulls. 15 swifts, all too briefly - for late April swifts, the Yare Valley is often a good place for sightings. Swallow, house martin. Kingfisher seen mating. Blog here.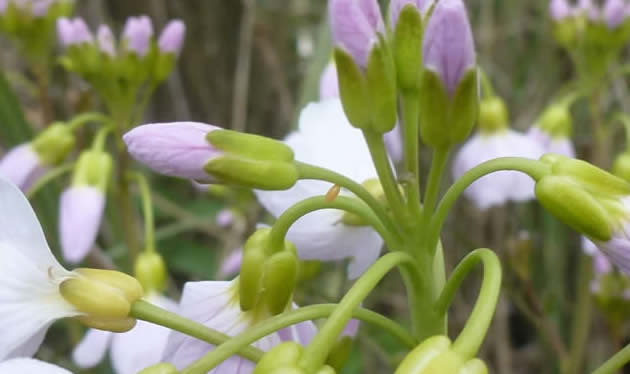 Lady's smock with egg of orange tip butterfly - see middle of photo.
25 April: male stonechat; several recent sightings (TB). Big flock (100+) of hirundines, all 3 species, including a lot of house martins.
23 April: 5 grasshopper warblers; hobby (SW). "Little gull drifted across to Whitlingham" (DR on WhatsApp). This is the final little gull sighting in this sequence, so far as I know; that's 25 days at Thorpe Marshes since since first seen on 30 March. How many birds were involved is unknown. Little gulls did not stay overnight at Thorpe: it's likely they left with black-headed gulls and roosted overnight at Breydon Water.
21 April: 3 little gulls, 2 adults, 1 immature. 6 Arctic terns came through but didn't stop (SW).
20 April: 2 adult little gulls reported, now three weeks since the first appeared.
18 April: now 3 little gulls, one adult with a black head and two immatures. Whitethroat, 3 lapwings, oystercatcher.
17 April, dusk: water rail heard, noctules, a single roosting black-headed gull. Little gull reported daily still.
15 April: little gull. 2 cranes over, whitethroat (from info on WhatsApp).
14 April: little gull ...
13 April: little gull still there, now a fortnight since it was first seen. Grasshopper warbler heard this morning (SW).
12 April: little gull, 2 stonechats still here. Sedge warblers singing in two places; willow warblers reported (local WhatsApp group). Swallows, sand & house martins.
10 April: kittiwake, adult! Perhaps the bird that has been at Whitlingham CP. Adult little gull with most of its black head; different bird to the wintry ones seen previously, or a remaining bird coming into spring plumage? Swallows, sand martins, house martin, coming and going; lapwing landed. Lady's smock, marsh marigold in flower.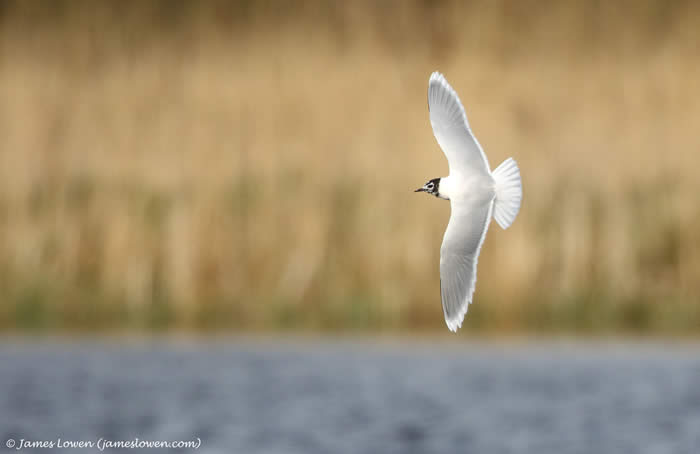 Today's little gull (James Lowen www.jameslowen.com).
9 April: common tern (SW).
7 April: 2 stonechats, little gull (SW).
6 April: 1 little gull, dozens of swallows, viewed from the railway bridge due to flooded paths.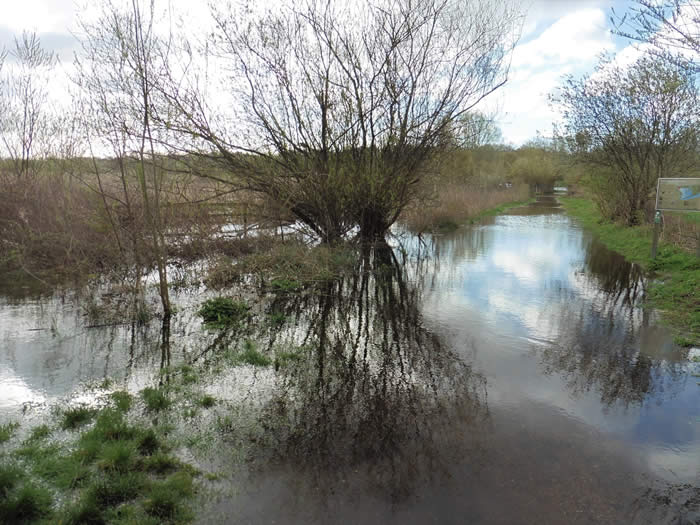 Flooding, 6 April 2021.
5 April: 1 little gull, several swallows and at least one sand martin, two oystercatchers on the 'beach', all viewed from the railway bridge due to paths going under water.
4 April: ♀&♂ stonechats still present, blackcap singing, pair of shovelers and a few teals still around. Evening: crane flew over (SW).
31 March: 3 little gulls. See photo below, cropped from this one on Facebook.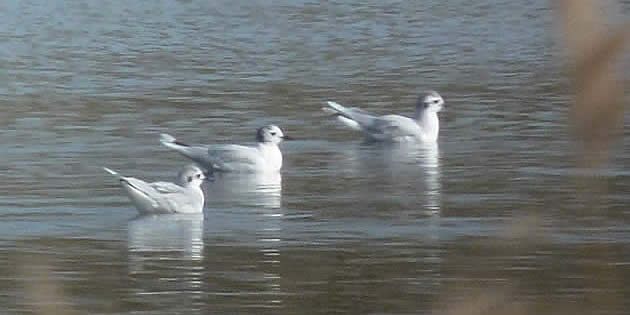 30 March: little gull! Adult moving from winter to spring plumage. Dusky underwings, some dark on hood, a hint of pink on the underside in flight.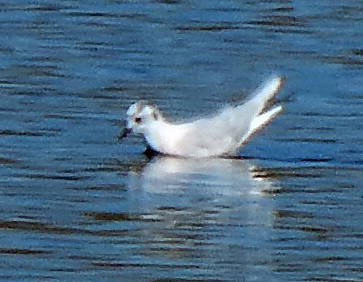 Little gull (Susan Weeks).
About 6 toads in one ditch. Many peacock butterflies, small tortoiseshell, buff-tailed bumblebee, pied shieldbug, Eristalis pertinax hoverfly. 2 stonechats, chiffchaffs, green woodpecker calling, buzzard, 2 lapwings. 2♂ shovelers with tufted ducks, teal, gadwall on broad. Little egret on 'flood'.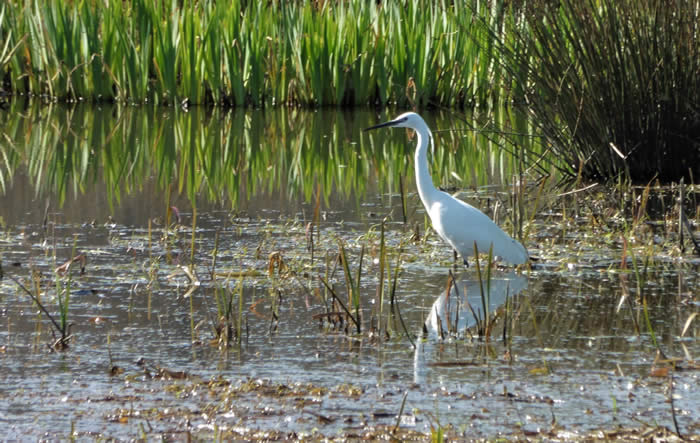 Little egret, 30 March 2021.
29 March: stonechat, reed bunting, Cetti's warblers and chiffchaffs singing, pair of linnets, kingfisher on river. Little egret, shoveler, tufted ducks, teal, gadwall on broad. 3 sand martins reported on 27 March. First lady's smock, next to Japanese rose Rosa rugosa by riverside path.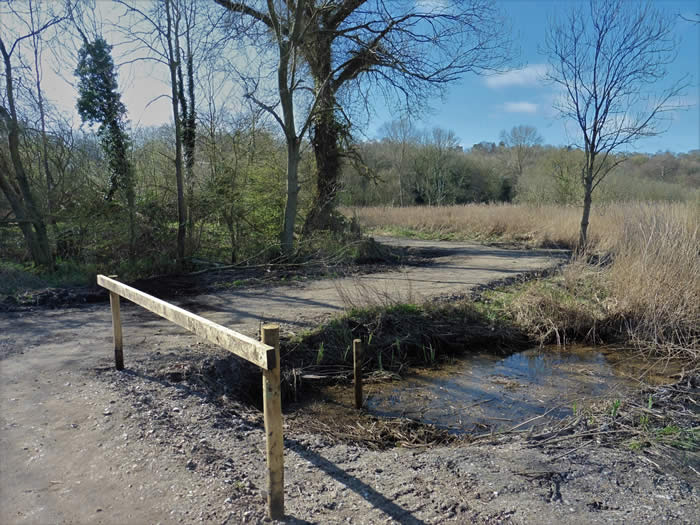 Even the 'muddy corner' is dry now; 29 March 2021.
23 March: 2 oystercatchers, 3 shovelers (1♀,2♂), sparrowhawk. Blackcap song reported (SW). Peregrine over, seen from Thunder Lane.
22 March: chiffchaffs, reed bunting and Cetti's warbler singing; stonechat reported (I missed it). 2 male shovelers.
11 March: 47 tufted ducks, gadwalls, shoveler, teal, mallard, coot, 2 little grebes. Water rail called; chiffchaff contact call. Coltsfoot in flower on riverside path near the houseboat.
9 March, late: 2 barn owls (SW).
4 March: little egret. Tufted ducks, gadwalls, shovelers. Water rail called.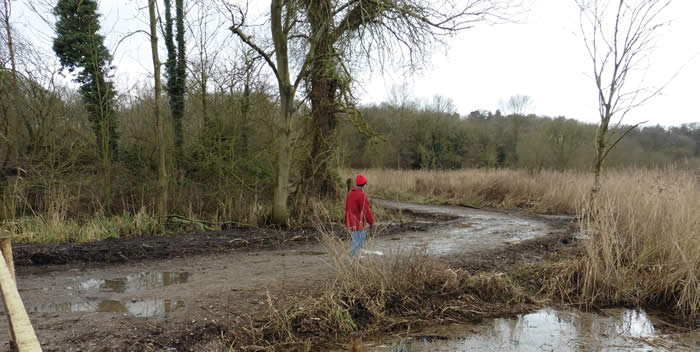 Path improved in previously very muddy SE corner of the circuit around the reserve; still wet though, 4 March 2021.
23 February: 5 shovelers (1♀,4♂), little grebe on St Andrews Broad. Stonechat, 2 reed buntings, Cetti's warbler singing. Barn owl seen early today (TB).
22 February: single crane seen flying west (SW and MB).
17 February: smew has gone (so has the ice). 158 tufted ducks (count by Geoffrey Kelly). 4 shovelers, gadwalls mating, a handful of teals, pochard reported but had gone when I was there. 1 Cetti's warbler singing; 2 reed buntings; single tail-less stonechat; small group of siskins over, by railway bridge. 20 lapwings over, flying SE.
15 February: redhead smew (was previously at Whitlingham); barn owl at dusk (16:55), also reported several times recently (MB); water rail calling.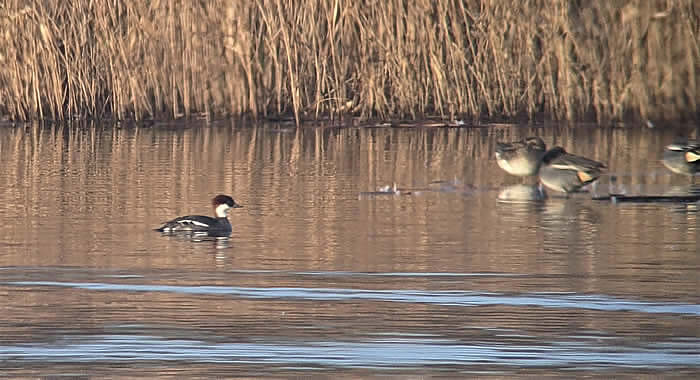 Smew, with teals (Stuart White).
14 February: 22 shovelers (SW)
12 February: no diving ducks with c.98% of the gravel pit's water surface frozen. Group of gadwalls and teals near the viewing point, and ♂ shoveler by opposite shore; 2 stonechats reported.
8 February: great white egret (SW).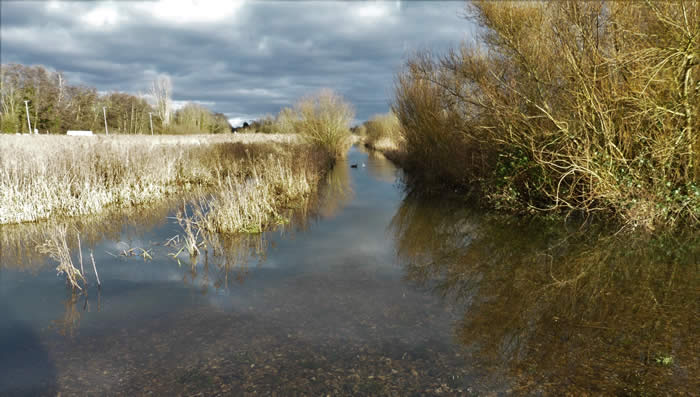 Flooded path through the marshes, 1 Feb 2021.
1 February: male siskin in alder by railway bridge. Two shelducks flew over. No egrets.
29 January, morning: great white egret showing well, with little egret. Male goldeneye again.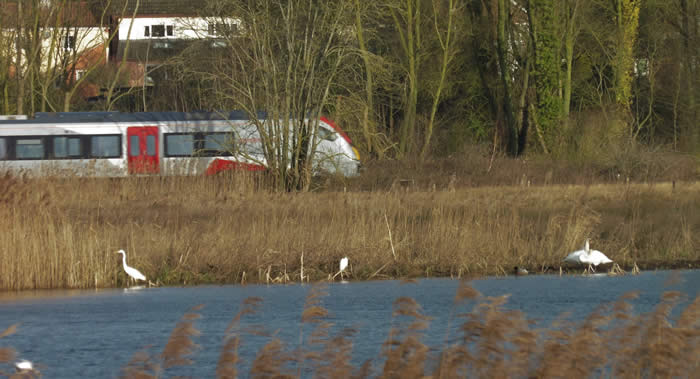 It won't win any prizes — record shot would be a polite description — but you can just about make out, from left to right, great white egret, little egret and two mute swans.
28 January, late afternoon: great white egret (MB); male goldeneye.
26 January: 3 stonechats (2♀,1♂); first I've seen this year, but then it's largely a matter of chance on timing. Cetti's warbler singing. 3 pochards (1♀,2♂), pair of shovelers, little egret.
25 January: kittiwake reported on Twitter, with photo.
10 November: 6 goldeneyes (2♂) (SW).
17 January: fairly low numbers of waterfowl: 51 tufted ducks, 11 gadwalls, 2♂ pochards, 23 teal (probably more), 2 coots, 2 great crested grebes. 2 herons, 1 little egret.
4 January: tufted ducks, gadwalls, teal & pochards on St Andrews Broad, plus great crested grebe and cormorants. Little to see on the marshes; just mute swans on flooded paths.
---
Sightings from 2012 - 2020 here.
Wildlife reports & guide
Guide: click here to see NWT Thorpe Marshes map and guide.
2021 James Emerson's The Birds of Whitlingham & Thorpe 2021
2020 James Emerson's The Birds of Whitlingham & Thorpe 2020
2019 Thorpe Marshes wildlife report for 2018-19  
James Emerson's The Birds of Whitlingham & Thorpe 2019
2018 James Emerson's The Birds of Whitlingham & Thorpe 2018.
2017 Thorpe Marshes wildlife report for 2017.
James Emerson's Whitlingham Bird Report 2017. 
2016 Thorpe Marshes wildlife report for 2016.
James Emerson's Whitlingham Bird Report 2016.
2015 Thorpe Marshes wildlife report for 2015.
James Emerson's Whitlingham Bird Report 2015.
2014 Thorpe Marshes wildlife report for 2014.
James Emerson's Whitlingham Bird Report 2014.
2013 Thorpe Marshes wildlife report for 2013.
James Emerson's Whitlingham Bird Report 2013.
2012 Thorpe Marshes wildlife report for 2012.
James Emerson's Whitlingham Bird Report 2012.
Reports are in PDF format.
Wildlife habitats
The three key habitats at Thorpe St Andrew Marshes are the ditches, gravel pit and grazed marshes - see below.
Other habitats, which are all part of the rich mix, include:
rough marsh of willowherb and nettles, attracting many sedge warblers
sallow (pussy willow) scrub, good for Cetti's warbler
the adjacent tidal River Yare
adjacent wet woodland
areas of reed, including a reed rond on the river, attracting reed warblers.
Ditches
Many ditches – also called dykes in Norfolk – have abundant water soldier and frogbit, both aquatic plants. These are indicators of good water quality.

In the Broads, the occurrence of the Norfolk hawker dragonfly, which is the symbol of the Broads Authority, is strongly linked to water soldier. The best place to see these is over the ditches close to the cattle corral.

Water rails and water voles use the ditches, though both are difficult to see.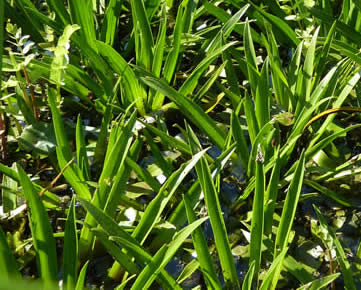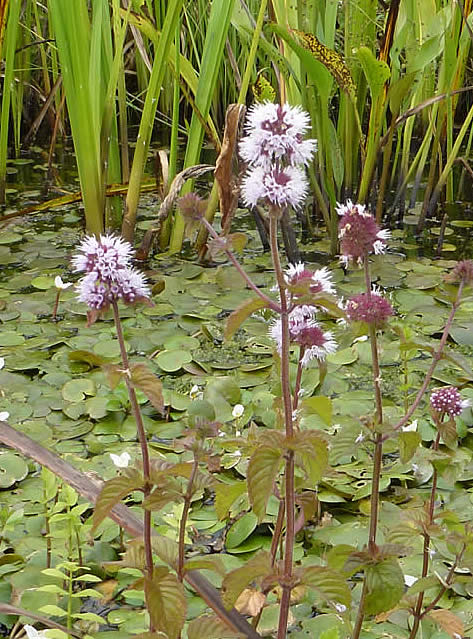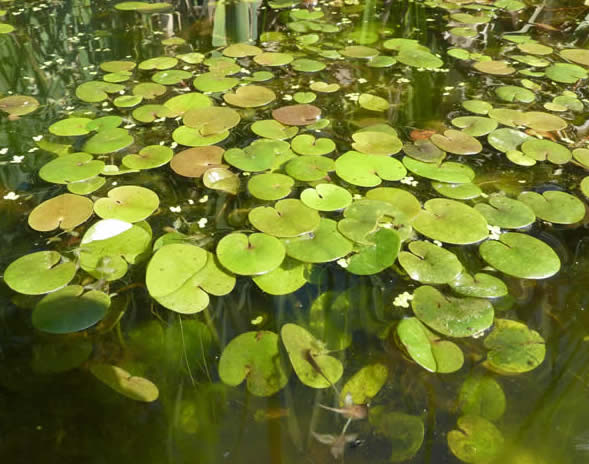 Ditches rich in water soldier (left), water mint (centre) and frogbit (right).
Gravel pit
Gravel extraction – as at Whitlingham Country Park across the river – has led to the creation of a lake, which has filled naturally with river water. Some may call this a 'broad': the true broads are man-made, too, though from flooded peat diggings, and typically are much shallower.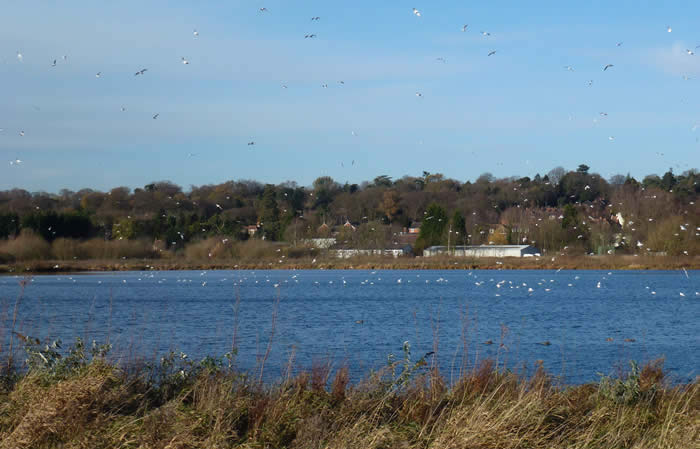 Gulls over the gravel pit, December 2011
The gravel pit here attracts wintering ducks, especially tufted ducks (picture below), pochards and gadwalls, moving between here and the Country Park. Unusual ducks call in at times, including smew, goldeneye, red-crested pochard and ferruginous duck over the 2011/12 winter.
Gravel beaches attract 'loafing' ducks and wading birds, which include little ringed plovers in spring/summer. Stock doves often feed on plant seeds on the gravel.
Grazed marshes
Livestock are essential to manage the open grazed marshes habitat.
Without them, thick grasses and sedges would dominate even more, and would in time be taken over by scrub.

More heavily grazed and trampled areas have a distinct structure of lumps and hollows that attract feeding snipe, and have flowers such as marsh marigold and lady's smock.

The flood: the grazing marshes include a 'flood', periodically under water, then drying out, here with a greylag goose and mallards in March 2012. The bright green shoots are emerging yellow flag iris plants.