Thorpe St Andrew Marshes
Parking: the lower part of Thunder Lane, by the junction with Yarmouth Road, has a 'shut, access only' half barrier for roadworks, but access for parking for the marshes is possible. The roadworks have worked their way up Thunder Lane: farther up it is closed. You can still park on Yarmouth Road or Hillside Road. Access around the marshes on foot is fine. 26 March
Thorpe St Andrew Marshes – NWT Thorpe marshes for short – is one of the Norfolk Wildlife Trust's newest nature reserves, established in 2011. It's in the Norfolk Broads yet on the edge of Norwich in Thorpe St Andrew. It also happens to be my local patch – just down the road from home and the Honeyguide office, writes Chris Durdin.
Click on the red writing to see the 15-page, illustrated Thorpe Marshes wildlife report for 2016.
NWT Thorpe Marshes is also within the area covered by James Emerson's Whitlingham Bird Report 2016.
March: the first half of the month is still pretty wintry, with wintering ducks still using the Broad. Bird song is increasing, especially on bright days, with the prospect of the chiffchaff in the second half of the month ... and the first spring flowers, namely these below.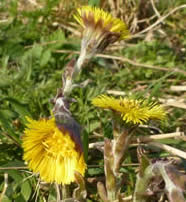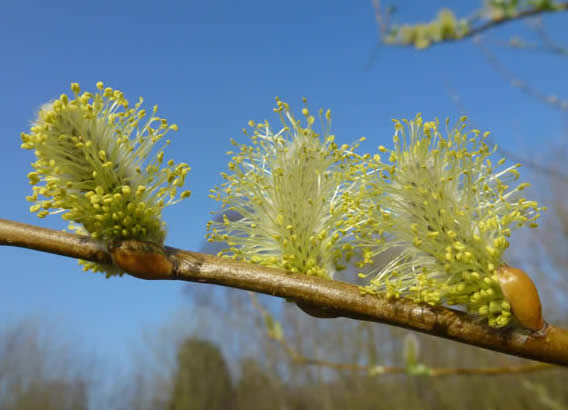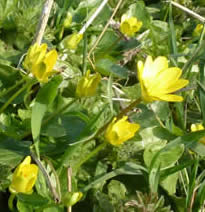 Flowers to look for in March: coltsfoot, pussy willow and lesser celandines.
Recent sightings
2017
26 March: chiffchaffs singing, green woodpecker, grey wagtail.
8 March: lesser celandines flowering.
7 March: stonechat and little egret still there; oystercatchers displaying, male shoveler. Coltfoot coming into flower - see old Coltsfoot at Thorpe Marshes blog here.
21 February: 3 little grebes, little egret, oystercatcher (2 yesterday).
17 February, guided walk: little egret, 2 stonechats, 1 male shoveler, water rail heard, 2 reed buntings singing, 150 lapwings over.
10 February: black-necked grebe, present since about 1 February.


Black-necked grebe with tufted ducks, 10 Feb (Derek Longe).
24 January: 95% ice cover on the Broad, with ducks (including male pochard) concentrated in the 5%.
19 January: 90% ice cover on the Broad. A few ducks on the far side (from the viewing area) only.


Canada geese, seen on the guided walk on 16 January (Derek Longe).
16 January, guided walk:
3 shovelers, 2 little grebes, Chinese water deer, lots of gadwalls, teals and tufted ducks on the Broad. Water rail and Cetti's warblers noisy today.

Left: Chinese water deer on the broad's edge, from the viewing area (Derek Longe).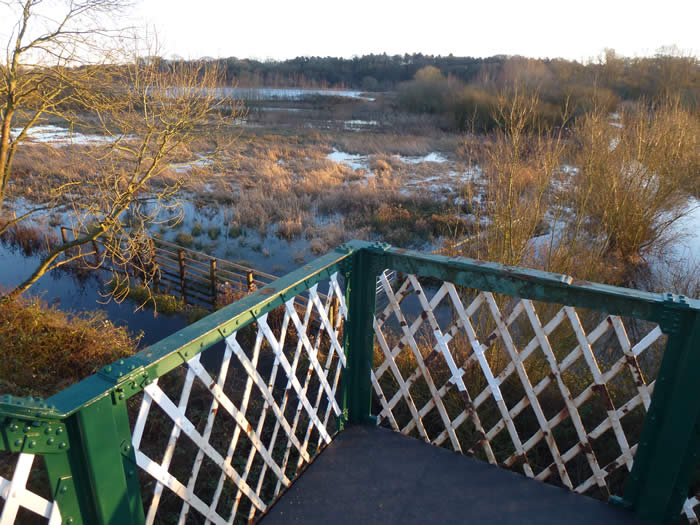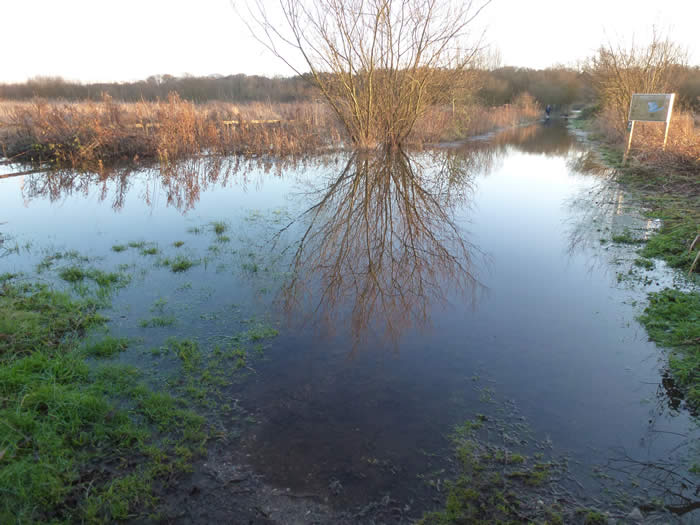 Reserve under water, 14 January. Left, from the footbridge. Right: from just over the footbridge, looking along the path towards the mooring basin.
5 January: 2 stonechats. Routine numbers of gadwall/teal/tufted ducks on the Broad. Water rail seen rather than heard, for a change.
2016


Teals and tufted ducks on the broad, 26 December.
31 December: chiffchaff!
25 December: 4 male shovelers & 52 gadwalls on the Broad; 2 stonechats.
20 December: 2 stonechats, 2 male wigeons on the Broad.
16 December: 2 stonechats, 3 pochard, 1 wigeon, c.345 black-headed gulls. Fungi on edge of wood including velvet shank and jelly ear.
14 December, guided walk: 2 stonechats, water rail, great spotted woodpecker, lots of tufted ducks & gadwalls, 2 shovelers, 2 lapwings.
12 December: 2 stonechats, 190 tufted ducks, 3 lapwings.
7 December: 1 stonechat, 92 tufted ducks, lower numbers of gadwall, mallard and teal.
2 December: female marsh harrier; 2 stonechats, 2 male shovelers on the Broad. Duck numbers seem to be building. 2-3 Chinese water deer.
29 November: 2 stonechats still there this frosty morning, today near the big bramble patch. Wildfowl etc as yesterday.
28 November: 2 stonechats are back, on marsh around flood. Seems to be lots of wrens this bright, frosty morning, and Cetti's warblers singing. Ducks as for 26th Nov; snipe, lapwing.
26 November: a handful of gadwalls, tufted duck and teals.
22 November: peregrine! Most of the duck have gone.
18 November: big arrival of ducks, 220 tufted ducks, 41 gadwalls, 6 teal, 2 pochard, 2 shovelers. Found Willow Emerald egg-laying scars on ash.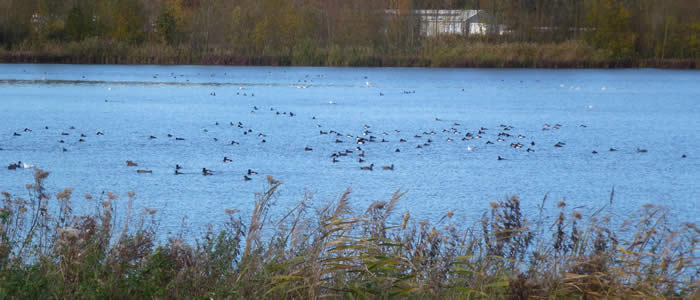 Ducks on St Andrews Broad, the gravel pit, 18 November 2016.
11 November, guided walk: 8 snipe flying, another 7 settled; lapwing, 10 gadwalls, sparrowhawk. Dark bush cricket, Small Stag's Horn fungi, drinker moth caterpillar, various late flowers.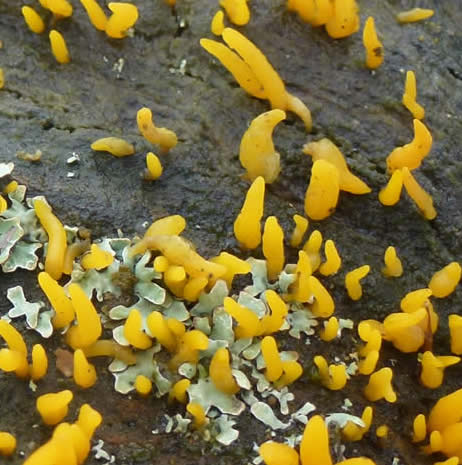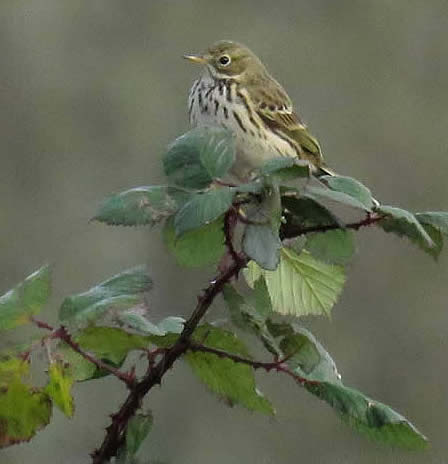 Small Stag's Horn (Calocera cornea); meadow pipit (Derek Longe); dark bush cricket. More photos on Facebook here.
9 November: 4 teal. (No velvet scoter, reported yesterday at Whitlingham.)
30 October: female marsh harrier; 6 snipe; water rails calling in 3 places. [Recent reports again of stonechats and yellow-browed warbler.]
24 October, guided walk: snipe, lapwing, c.8 redwings over, 4+ meadow pipits.

Water shrew found dead - ID confirmed later after checking photo.

Water shrew (Susan Weeks). Note black-and-white appearance and white ear tuft.
22 October: stonechat, male, around big bramble patch. 6 Common Darters warming themselves on one fence, with more elsewhere, including in the ivy corner. Lapwing, snipe, water rail called.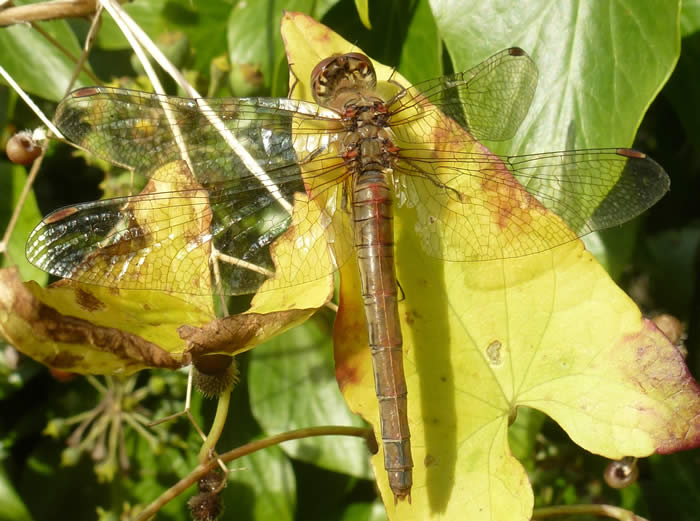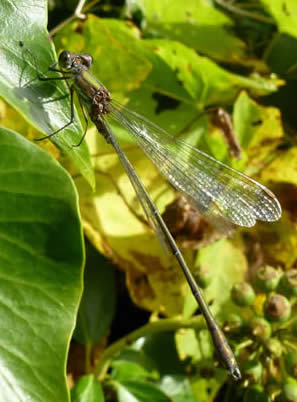 Common Darter and Willow Emerald on ivy, 20 October. 'Dragons and a damsel on ivy' photos on Facebook here.
20 October: bearded tits again, 1 seen; yellow-browed warbler, hawfinch over (MC). Willow Emerald on ivy, Common Darter (CD).
17 October: 2 bearded tits reported (MC).
11 October: snipe and redwing, signs of autumn. Water rail heard, several Cetti's warblers singing. Common Darters still egg-laying; Migrant Hawker; couldn't find a Willow Emerald.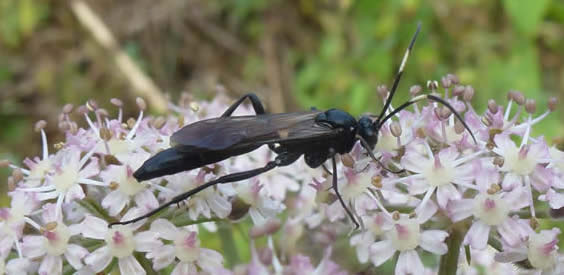 Ichneumon wasp on hogweed, 11 October: best guess is Amblyjoppa proteus female.
21 September, a.m.: Willow Emerald, Migrant and Brown Hawkers, Common Darters. Green woodpecker, little egret, 1 lapwing, water rail heard, Cetti's warbler and chiffchaff singing. p.m. 31 Willow Emeralds counted (DL).
13 September: 2 Willow Emeralds from railway bridge. 2 common sandpipers by St Andrews Broad.
8 September: c.20 Willow Emeralds (DL).
7 September: 6 x Willow Emeralds - without checking Bungalow Lane area. Nodding bur marigold (see right) very obvious, especially around flood area. 4 linnets over, 2 tufted ducks. Several Common Blue Damselflies looked like they'd recently emerged. Brown and Migrant Hawkers.
30 August: common sandpiper, lapwing, Willow Emeralds again.
26 August: minimum of 6, probably 8 Willow Emerald Damselflies at eastern end of the reserve. Also count of 12 today - DL. Ditch running parallel to Bungalow Lane seems to be the best place to see them.
23 August: 4 male Ruddy Darters holding territory, many Brown Hawkers and c.20 Migrant Hawkers, 2 tatty-looking Black-tailed Skimmers, Common Blue Damselfly. Common blue butterfly and other regular species. 2 little egrets in flight; c.21 lapwings on the west beach, a group (probably a family) of tufted ducks with them. Also 4 x Willow Emerald Damselflies (SW) at eastern end of the reserve.
5 August: Common and Ruddy Darters; 2-3 Norfolk Hawkers, perhaps the season's last; Brown Hawker now the commonest dragonfly. Reed warbler feeding two large youngsters. Failed to find yesterday's either of Thursday's Red-eyed Damsel species. Arrowhead in flower. Chinese water deer.
4 August, guided walk: Lots of wonderful high summer flowers. Spear-leaved orache noted.


Angelica with Black and Yellow Longhorn Beetle Rutpela maculata (formerly Strangalia maculata)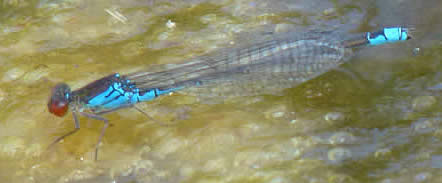 Big news was after most the group had left: Small Red-eyed Damselfly (right), the 20th odonata species (dragonflies and damselflies) for the reserve. It's a species rapidly colonising the UK following its first appearance in 1999. Interestingly this male was in a ditch, characteristically on surface vegetation, namely some blanket weed, close to a male (Large) Red-eyed Damselfly (left), that was perched on a stick. Both photos were digiscoped.
3 August, evening walk with Norwich Bat Group: little egret. Five bat species: Daubenton's seen welll over the river and a clear sound record of Nathusius's pipistrelle. Noctules seen, soprano pipistrelles seen and heard well, less distinct sound record of common pipistrelle.

31 July: Beautiful China-mark moth; Emerald Damselfly; painted lady (DL).

Beautiful China-mark moth Nymphula nitidulata (Derek Longe). The third China-mark species of micro-moth seen here, after Brown and Small. Larval foodplants bur-reed, yellow water lily and others.
23 July, on the flood: 1 snipe, 1 water rail (did they breed? Yes, as young were seen in the last week on July). Emperor dragonfly.
18 July: small copper, 3 big juvenile gadwalls, kingfisher, Brown Hawker, a late Large Red Damselfly. Gatekeeper, Ruddy Darter (SW).


Black-tailed Skimmers on show today, and still lots of Norfolk Hawkers.
15 July: 31 Norfolk Hawkers, Four-spotted Chaser, Brown Hawker, Common Darter (last two first of the summer). Commas looking to egg lay on nettles by riverside path. Little Egret and at least 10 lapwings (DL).
14 July: little egret, male Broad-boded Chaser, Chinese water deer. Buttonweed confirmed by the flood.
8 July, guided walk: grasshopper warbler, tufted duck with ducklings, Norfolk hawkers and more.
7 July, guided walk with CIEEM: two startling invertebrates, below. Also grasshopper warbler singing.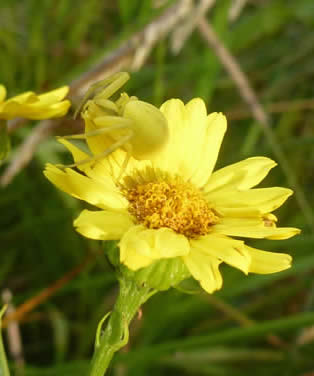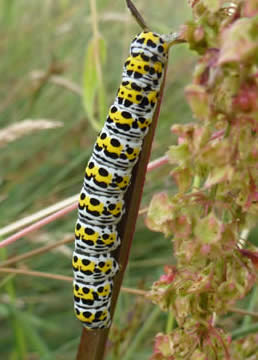 Crab spider Misumena vatia on a marsh ragwort; mullein moth caterpillar, but don't be fooled by the dock, it's actually on a figwort stem, one of its food plants.
4 July: ringlets, 38 Norfolk hawkers, black-tailed skimmers (SW).
2 July, with Society for the History of Natural History: large skipper, comma, grasshopper warbler singing.
30 June: meadow brown, mute swan with 5 cygnets, one a white 'Polish' type, tufted duck female with c.7 small ducklings, grasshopper warbler singing.

Count of 22 male Oedemera nobilis, the Thick-Legged Flower Beetle - right, on valerian.
28 June: count of 40 Norfolk Hawkers (DL).
20 June, evening, guided walk: kingfisher, clouded border moth, some evening dragonflies, good view of sedge warbler and reed bunting.

Clouded border (Derek Longe)

16 June: Broad-bodied Chaser male, 32 Norfolk Hawkers (DL/SW).
14 June, RSPB Norwich local group: hobby, male marsh harrier, common tern, willow warbler (and other warblers) singing.
12 June: 3 early marsh orchids found.
7 June: 2 x Norfolk Hawkers (SW)
6 June: four-spotted chaser, painted lady, diamond-backed moth - there seems to be a mini-invasion of these (DL/MC)
30 May: 2 common terns, c.30 house martins, 16 Canada geese. Ragged robin in flower.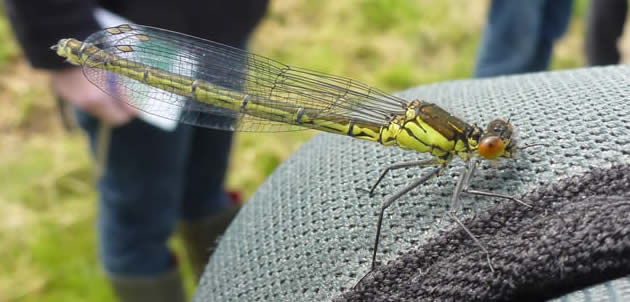 Red-eyed Damselfly, immature, on telescope 23 May 2016 ... see Trapped!
23 May, guided walk: 5 species of damselfly, including Large Red-eyed. Hairy Dragonflies mating. Lots of singing warblers. Harlequin ladybirds and many larvae.
22 May: 2 hobbies, male marsh harrier and egg-laying Hairy Dragonfly.
17/18 May: gadwall with chicks, peregrine (RC). 17/19 May: 4 x species of damselflies (DL, SW)
10 May: cuckoo, heard from home, dawn.
5 May: lesser whitethroat, reed warbler. Orange-tips, green-veined white. Large Red Damselfly (DL). Garden warbler (MC). 6 gadwalls: will last winter's management encourage them to nest?
24 April, evening: c.70 hirundines (c.60 swallows, 10 sand martins) over Broad. 2 green sandpipers, common sandpiper. "Possible but frustratingly distant pale phase booted eagle" I wrote ... but later shown to be buzzard.

Pale buzzard, photo by Drew Lyness
21 April: 7 warbler species, including grasshopper warbler. Common sandpiper.
19 April: first whitethroat, 1 grasshopper warbler (08:30), lots of sedge warblers, willow warbler and more.
18 April, dusk: 3 grasshopper warblers singing, 1 of which just off reserve to E. 46 tufted ducks. 3 noctules over river, 3 over west marsh. Several snipe (c.6).
13 April: 3 little ringed plovers, 3 green sandpipers, oystercatcher, 3 lapwings. Sedge warbler and blackcap singing; 8 lesser black-backed gulls. First lady's smock flower.
10 April: loud water rail and pair of gadwalls on extended flood: late winter birds or staying this year? Time will tell. 22 hirundines (c. 8 house martins, c.14 swallows), also sand martin. 51 tufted ducks still, 2 oystercatchers, 1 lapwing, great crested grebes displaying on Broad.
5 April: garden bumblebee, hairy-footed flower bee and smooth newts (JE).
4/5 April: sedge warbler, willow warbler, house & sand martins, swallows (RC).
30 March, guided walk: chiffchaffs, lapwing, gadwall, teal, tufted ducks. Flea beetles, small tortoiseshell, 7-spot ladybird. Marsh marigolds, coltsfoot, alexanders.
27 March: common scoter! Also 2 oystercatchers, weasel.

Right: common scoter on St Andrews Broad, with black-headed gull.

25 March: chiffchaffs and reed buntings singing. Lapwing and 4 oystercatchers. Two kingfishers flying around. 28 tufted ducks, just 2 teal. Coltsfoot still looks good.
11 March: 60 tufted ducks, male shoveler, siskin over. Coltsfoot by the river looks great.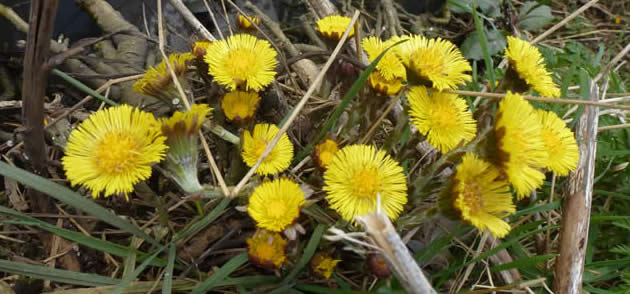 24 February: 2 oystercatchers - a sign of spring?
19 February, guided walk: 2 male shovelers, Chinese water deer, scarlet elf cup & yellow brain fungi.

Left: 2 male great spotted woodpeckers tussling (Derek Longe).

Cormorant confirmed as sinensis subspecies - below, with gadwalls.

12 February: lots of bird song first thing, reed bunting on territory. Low numbers of ducks. Scarlet elf cup by path from Bungalow Lane.

11 February: 58 lapwings (SW). Pintail x domestic mallard at River Green - see News, right.

3 February: firecrest reported near the river: wonderful picture on Twitter.
25 January: probable brimstone on Yarmouth Road, little egret, 10 cormorants, 8 lapwings.
Influx of ducks from Whitlingham CP: 218 tufted ducks (minimum), 51 pochards, 44 gadwalls, 1 shoveler, 1 goldeneye, 47 teal. Also Aythya hybrid (pochard x ferruginous duck) on the broad (MC) - reference photo on Yare Valley Wildlife website here.
21 January: 5 woodcocks at dusk, barn owl disturbed a jack snipe (MC).
18 January, guided walk: at least 2 Chinese water deer, 2 buzzards.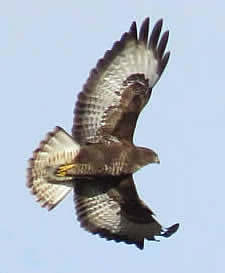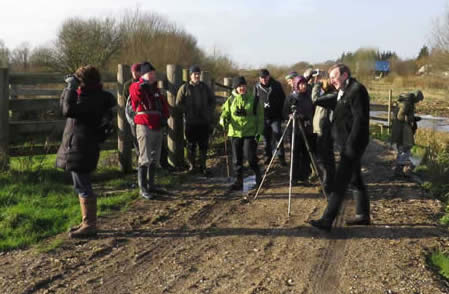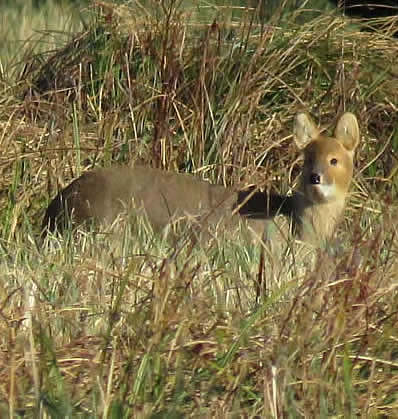 Buzzard, guided walk group, Chinese water deer (photos, 18 Jan, Derek Longe).
13 January: weasel on Bungalow Lane. 33 pochards (again!).

8 January, dusk: night heron heard (MC).
8 January: 133 tufted ducks, 33 pochards. Marsh marigold in flower (right)!

4 & 6 January: barn owl at dusk (MC).
Sightings from 2015, 2014, 2013 and 2012 here.
Wildlife habitats
The three key habitats at Thorpe St Andrew Marshes are the ditches, gravel pit and grazing marshes - see below.
Other habitats, which are all part of the rich mix, include:
rough marsh of willowherb and nettles, attracting many sedge warblers
sallow (pussy willow) scrub, good for Cetti's warbler
the adjacent tidal River Yare
adjacent wet woodland
areas of reed, including a reed rond on the river, attracting reed warblers.
Ditches
Many ditches – also called dykes in Norfolk – have abundant water soldier and frogbit, both aquatic plants. These are indicators of good water quality.

In the Broads, the occurrence of the Norfolk hawker dragonfly, which is the symbol of the Broads Authority, is strongly linked to water soldier. The best place to see these is over the ditches close to the cattle corral.

Water rails and water voles use the ditches, though both are difficult to see.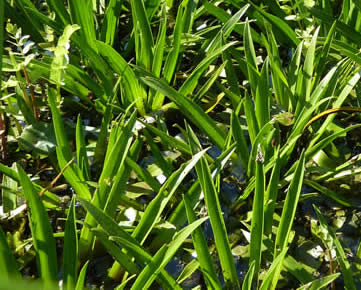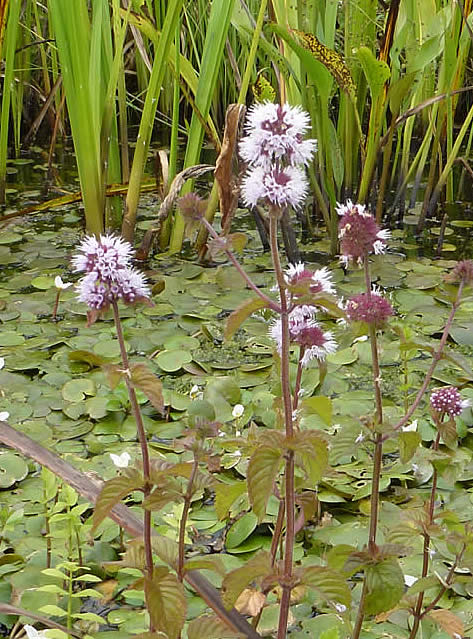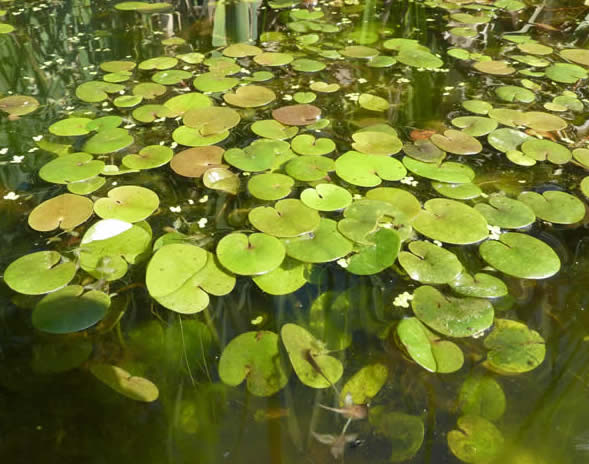 Ditches rich in water soldier (left), water mint (centre) and frogbit (right).
Gravel pit
Gravel extraction – as at Whitlingham Country Park across the river – has led to the creation of a lake, which has filled naturally with river water. Some may call this a 'broad': the true broads are man-made, too, though from flooded peat diggings, and typically are much shallower.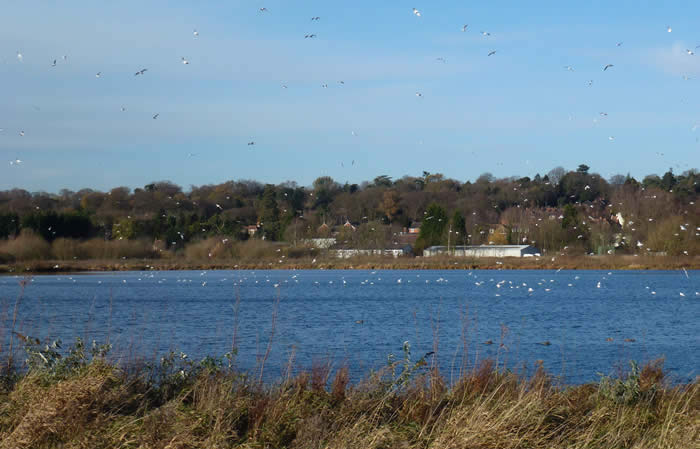 Gulls over the gravel pit, December 2011
The gravel pit here attracts wintering ducks, especially tufted ducks (picture below), pochards and gadwalls, moving between here and the Country Park. Unusual ducks call in at times, including smew, goldeneye, red-crested pochard and ferruginous duck over the 2011/12 winter.
Gravel beaches attract 'loafing' ducks and wading birds, which include little ringed plovers in spring/summer. Stock doves often feed on plant seeds on the gravel.
Grazing marshes
Livestock are essential to manage the open grazing marshes habitat.
Without them, thick grasses and sedges would soon dominate, and would in time be taken over by scrub.

More heavily grazed and trampled areas have a distinct structure of lumps and hollows that attract feeding snipe, and have flowers such as marsh marigold and lady's smock.

The flood: the grazing marshes include a 'flood', periodically under water, then drying out, here with a greylag goose and mallards in March 2012. The bright green shoots are emerging yellow flag iris plants.