News
Algarve and Alentejo, November 2023
Honeyguide's fifth trip combining the Algarve and part of Alentejo coincided with a spell of warm, sunny weather, exactly what you'd hope for during a late autumn trip. We followed our usual pattern of five nights at Alte in eastern Algarve followed by two in to Vila do Bispo to see parts of the western part of the Algarve.
There is a Honeyguide routine to collect holiday highlights, maybe two, three or four items that will particularly stay as a memory that you might mention if chatting about the holiday to a friend or neighbour. As we reviewed everyone's highlights during our final evening meal, one group member produced a splendid long list that she had noted on her phone. Her list is a handy concise summary of the great variety of wildlife we saw. Scolopendra; horseshoe whip snake; tree frog; chameleon; whimbrel; worm lizard; mole cricket; dog sick slime mould; scorpions; praying mantis; bird ringing; Spanish imperial eagles; storks in an apparent housing queue; Iberian painted frog. And the most entertaining: leaping frogs catching red veined darters. Photos on Facebook (some, though not all, of these!) and Algarve & Alentejo holiday report here.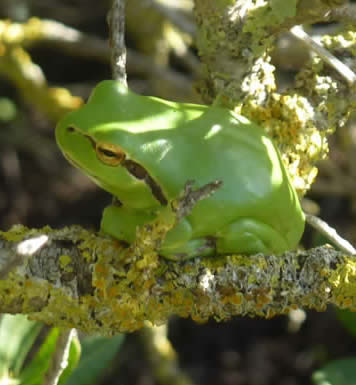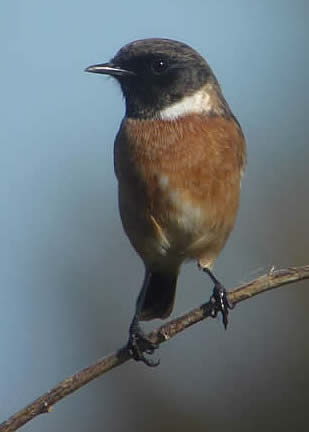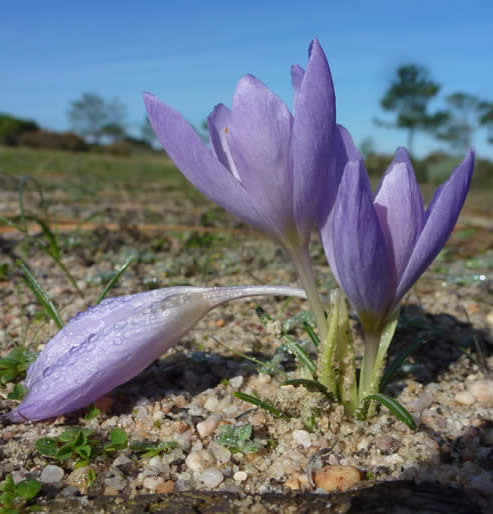 Stripeless tree frog; stonechat; autumn crocus (Crocus serotinus).
Valencia: bird ringing study shows climate change affecting moustached warblers
This blog - Valencia: bird ringing sheds light on wetland warbler survival - written with information from Pau Lucio, Honeyguide's leader in Valencia reveals that the changing climate is affecting moustached warblers. Honeyguide's groups in Valencia have seen bird ringing in Pego Marshes, the second most important site for moustached warbler in Spain, where breeding birds are joined by wintering birds from France. Pau and colleagues have used data from 51 ringing sites across Spain to study weather and how it affects incubation and fledging success. This found that increased storminess in a crucial period in early spring is having a negative affect on moustached warblers, but not on the more widespread reed warbler.
Our Valencia holiday 8 —15 March 2024 has vacancies. Once again we expect to visit Pego Marshes and meet Pau's ringing group Grupo de Anillamiento Pit-Roig.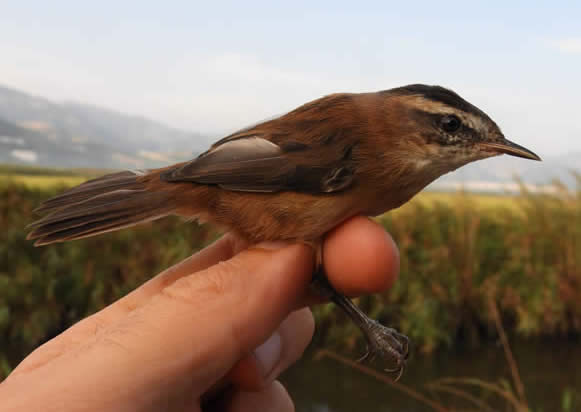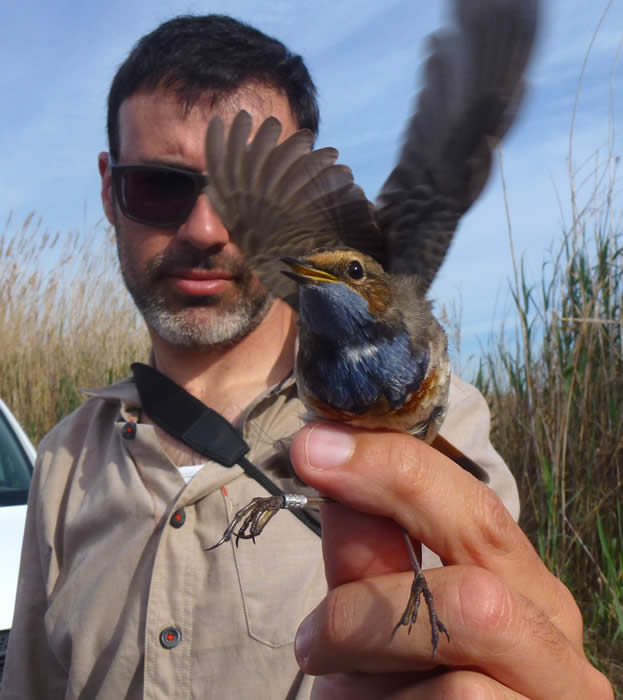 Moustached warbler; Pau with bluethroat.
Menorca, October 2023: Five photo blogs from Chris Gibson
Autumn in Menorca with Honeyguide Wildlife Holidays: Part 1 - Introduction
Autumn in Menorca with Honeyguide Wildlife Holidays: Part 2 - Flowers and fruits
Autumn in Menorca with Honeyguide Wildlife Holidays: Part 3 - Insects and spiders
Autumn in Menorca with Honeyguide Wildlife Holidays: Part 4 - Birds and other vertebrates
Autumn in Menorca with Honeyguide Wildlife Holidays: Part 5 - Landscapes of the island
Holiday report: Menorca October 2023 and Chris Gibson's Zoom talk on Menorca, here (35 minutes).
La Brenne (September 2023)
Though it was a personal visit, all travel has an element of recce about it, especially to such a wildlife-rich area. La Brenne, September 2023 - on the Honeyguide blog - explains. Bicycles and more ...
Protecting Montagu's and hen harriers in Salamanca
Vega Bermajo, our local guide for our South of Salamanca holiday, is also involved in a project to protect crop-nesting Montagu's harriers and hen harriers, run by SEO/Birdlife Spain Salamanca. Our holiday in May 2023 contributed €328 to this project. They've had a highly successful season, here in numbers: total nests located: 33 + one new territory. Harriers found: 121. Harriers saved from the harvest: 93.
How does all this work? You can read about it in two ways, either through this presentation on YouTube (a mix of still photos, movies and words) or in this PDF report.
Picos de Europa, June 2023
Last year's Picos holiday coincided with a heatwave; this year was more 'normal' weather. As always here, there were wonderful flowery meadows, glorious scenery, lots of butterflies and plenty of birds, especially close to the hotel in Boca de Huérgano, including regular rock sparrows, two nests of white storks and dippers on the local river. Other highlights included a cluster of Spanish purple hairstreaks taking nectar; a confiding red squirrel; English irises, ascalaphid (owlfly) and Egyptian vultures. 'Lovely group' and 'friendly company' were mentioned, too.
Here are photos of two amphibians that were much enjoyed. There are more photos on Facebook. Holiday report here: Picos June 2023.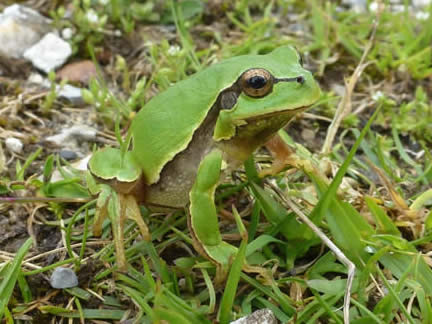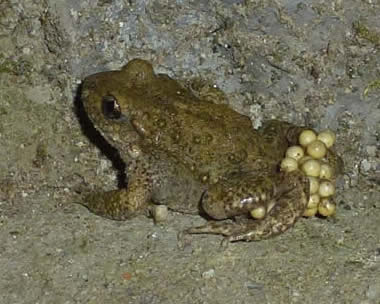 Tree frog; midwife toad, a male with eggs.
Corsica, May 2023
Honeyguide's first group on Corsica — much delayed by Covid — was a success, despite distinctly mixed weather, though to be fair for guide Christopher Hall it was about his fifth visit. From a birdwatcher's perspective, the two Corsican endemics of Corsican finch and Corsican nuthatch are inevitably on the wish-list, and as the photos below show, we saw both well. There was a good supporting cast, including scops owl, hoopoe and golden oriole in Isola Hotel's garden, plus bee-eaters, black-winged stilt, Marmora's warbler and close Cory's shearwaters elsewhere in the coastal part of the holiday. Then Moltoni's warbler, bearded vulture, firecrest and alpine chough were among the birds while at our second, inland base at Hotel E Caselle near Corte. Spotted flycatchers were everywhere. Considering the mixed weather, we saw good butterflies: Corsican heath, Corsican wall brown, scarce swallowtail and many caterpillars of Corsican swallowtail. Many of these are illustrated in our photos on Facebook, plus two curious parasitic plants and an amazing fungus.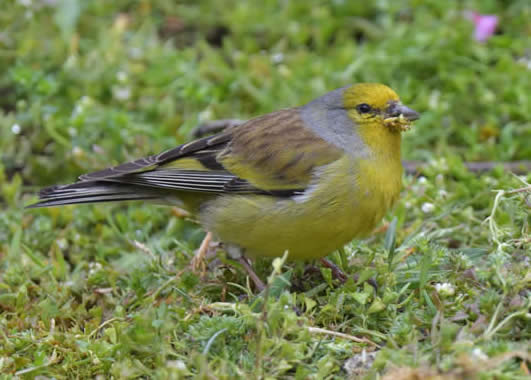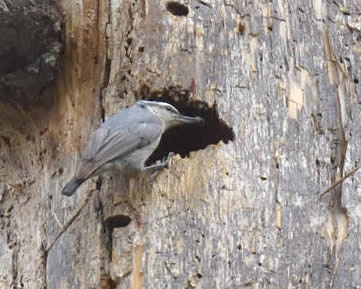 Corsican finch Corsican nuthatch (Christopher Hall). More photos on Facebook plus Honeyguider David Bennett's photos on Googledrive.
In Spain's Wild West - South of Salamanca
Honeyguide's first group was here in early May and Honeyguider Helen Crowder reports that they saw some amazing things, including very good views of a male Montagu's harrier (and hen and marsh harriers) on the wheat fields. Harrier protection is also our conservation contribution, for which we sent €328 to SEO/Birdlife Spain Salamanca. There were excellent and prolonged views of many other birds. "Highlights for everyone were two very well grown ocellated lizards, male and female and obviously a pair, sunning themselves on a big rock and we watched them closely for ages. The lavender habitat was at its best and produced some very good butterflies and a stunning broad-bordered bee-hawk, and my plant highlight was three birds flying toadflax."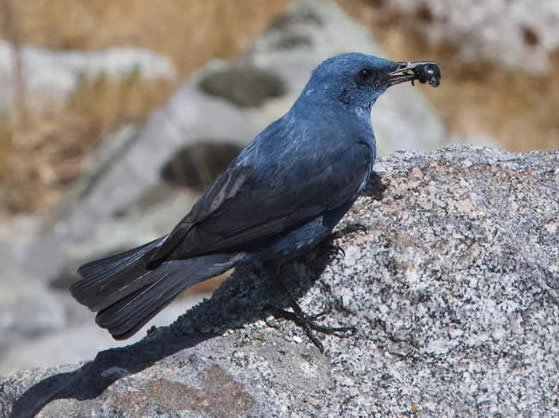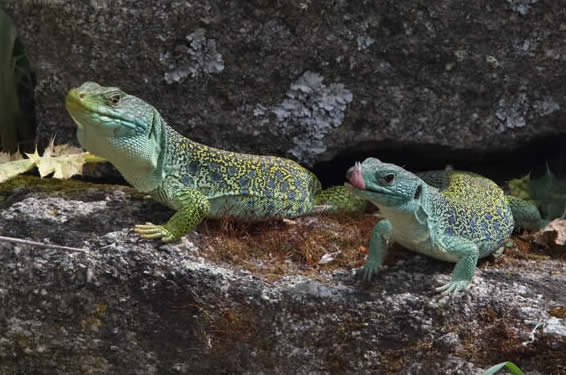 Blue rock thrush, 'ocellated lizards, sunning themselves on a big rock' (Cheryl Hunt). More photos on Honeyguide's Facebook. and Facebook photos (Birding in Spain's Wild West) here.
Crete, April 2023
We arrived in cold weather, then it was near-perfect for the week + a day. The flowers were brilliant, including 24 species of orchids and a wonderful show of tulips on the mountain plateau at Omalós. Bird migration was slower than some years, herons in particular, though bee-eaters were on the move and showed well near Festos. Red-throated pipit, Montagu's harriers, Bonelli's eagle, Rüppell's warbler and marsh sandpiper were some of the notable birds. Two charismatic migrant insects were a highlight: scores of vagrant emperor dragonflies (it's quite a year for these across Europe) and African Monarch butterfly. More photos on Facebook.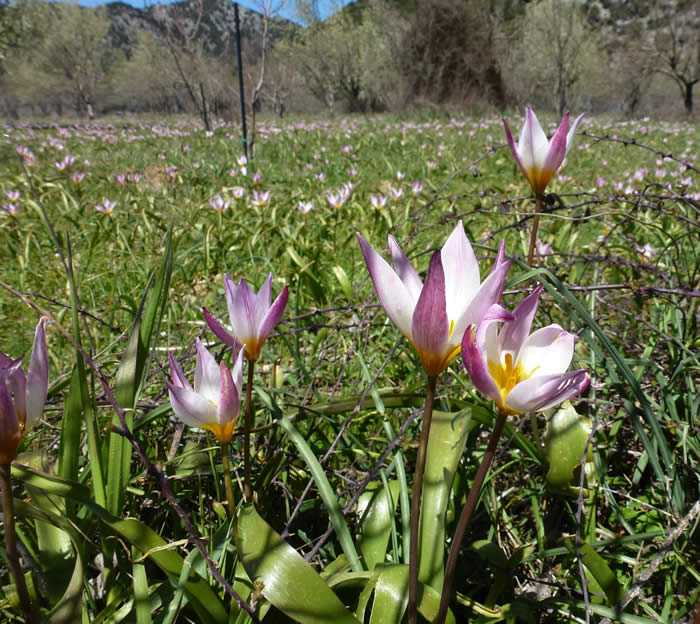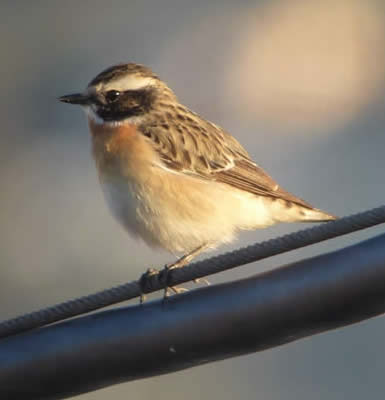 Tulipa bakeri at Omalós; whinchat on a perch at a base at Plakias.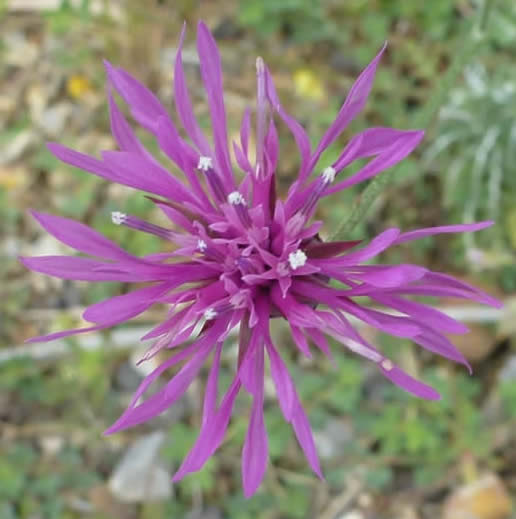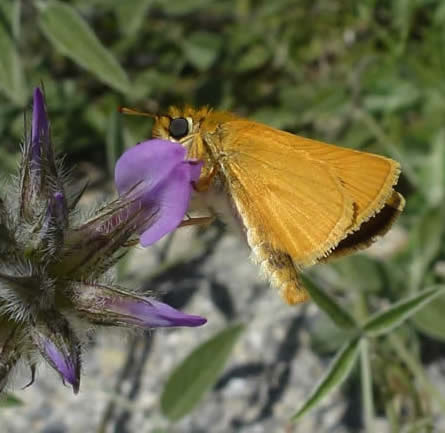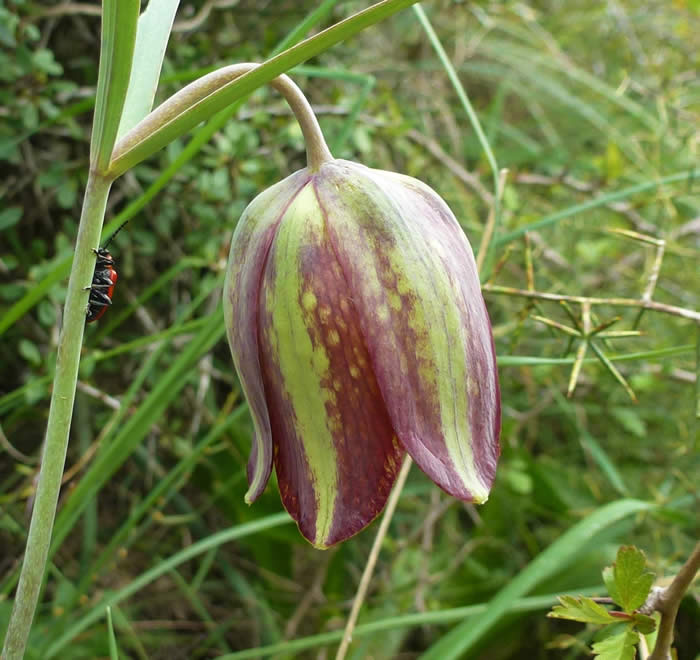 Crupina, Lulworth skipper on pitch trefoil, Fritillaria messanensis.
Extremadura, March 2023
With more than 20 groups over the years, Extremadura is familiar ground for Honeyguide, though this was only the second under the new arrangements with one minibus and one guide, Martin Kelsey, staying at Martin's Casa Rural. Extremadura and wonderful wildlife go hand in hand, and this was no exception. Black-winged kites, night herons, great spotted cuckoos and the many orchids on show were among the many highlights. Of course there were vultures, eagles, storks and many butterflies, including Queen-of-Spain fritillary, vagrant emperor dragonflies and much, much more. Extremadura 2023 report here.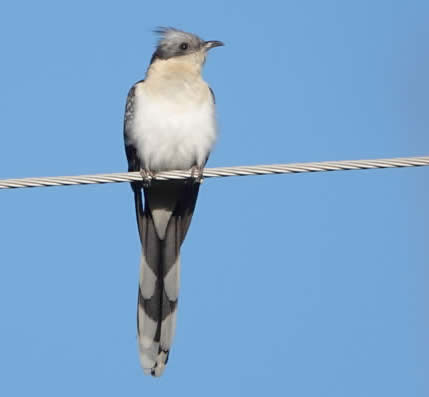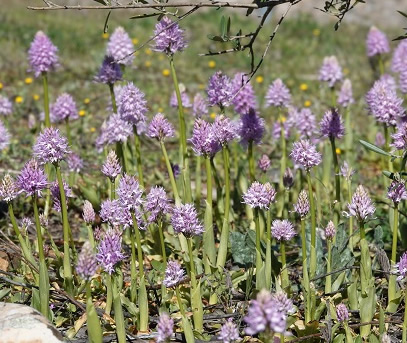 Great spotted cuckoo and Italian man orchids (Martin Kelsey) in Extremadura.
Morocco, March 2023
Honeyguide's third group at the wonderful Atlas Kasbah Ecolodge was blessed by warm and sunny weather – though perhaps better still, it followed a winter with some rain, which can be hit and miss. This part of Morocco is unlikely to be lush and green, but there was lots in flower: sheets of purple Moroccan toadflax, fields full of hollow-leaved asphodels and many wayside flowers.
Local birds like Moussier's redstart, house bunting, common bulbul, black wheatear and African chaffinch (now a full species - see below) were easy to see, as expected. Local woodchat and great grey shrikes showed well, though the star local bird was a little owl. We found northern bald ibis, black-eared wheatear and various wetland birds in trips into the National Park. A good range of butterflies, some dragonflies and other invertebrates added to the mix. Photos on Facebook.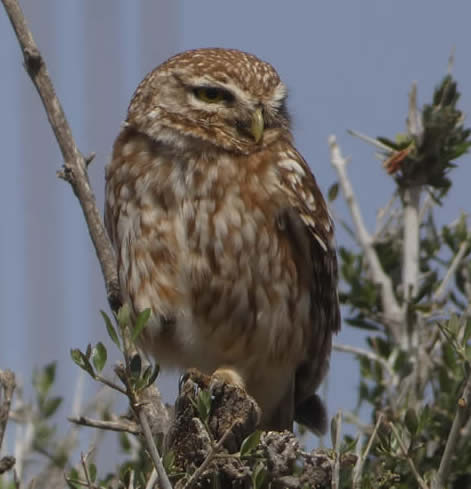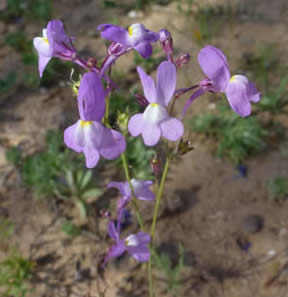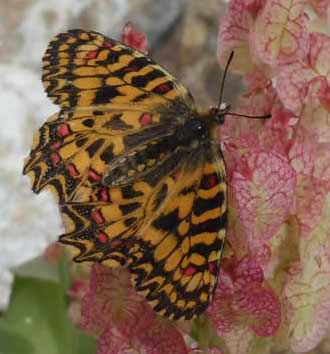 Little owl (Ann Greenizan); Moroccan toadflax Linaria maroccana; an unusually dark Spanish festoon on Rumex vesicarius.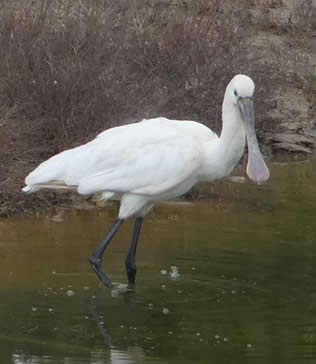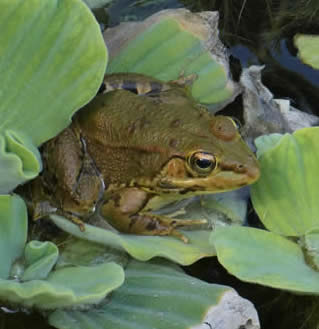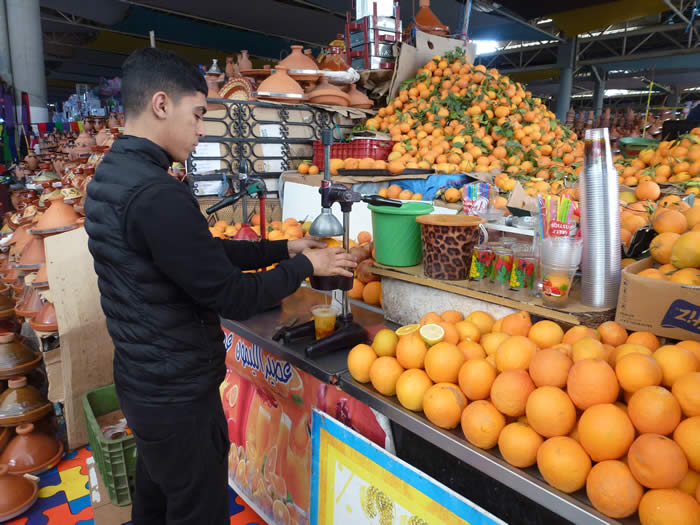 Spoonbill and Sahara marsh frog (Ann Greenizan); preparing a fresh orange juice in Agadir's souk.
Madeira chaffinch recognised as a species
Madeira chaffinch Fringilla maderensis is one of five species of chaffinch recognised in a recent split by the International Ornithological Committee. This becomes an 'armchair tick' for any Honeyguider who has been to Madeira, as the chaffinches are easy to see. The photos below are from the Balcões viewpoint at Ribeiro Frio where the chaffinches are particularly tame. We said in our October 2018 holiday report that the chaffinch "sounds and looks so different from European chaffinches that a future 'split' must be possible." And so it proved.
African chaffinch - which we see in Morocco - is also recognised as a new species, here Fringilla spodiogenys subspecies africana.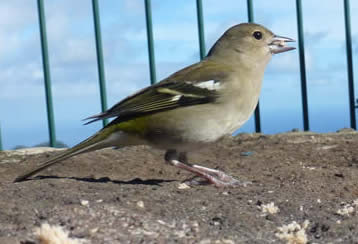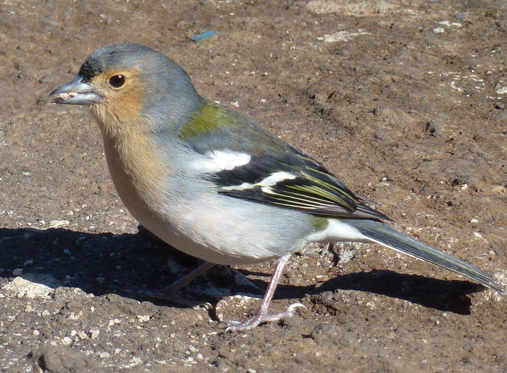 Madeira chaffinches: female (left), male (right). More photos on Facebook.
Bulgaria ~ Red-breasted Geese & much more
The above is a holiday idea for keen winter birdwatchers. It isn't a Honeyguide wildlife holiday, though we are happy to give it a plug as it is run by two of our friends and partners, namely Christopher Hall of New Horizons, and Neophron in Bulgaria. Christopher is Honeyguide's leader in Corsica, Iceland and Falsterbo; Neophron looks after our local arrangements in Bulgaria's Western Rhodopes.
Full details of Bulgaria ~ Red-breasted Geese & much more are there by following the link. Dates are 4 - 9 February 2024 and the price is £1595 (sharing), single supplement £100. Bookings are through New Horizons.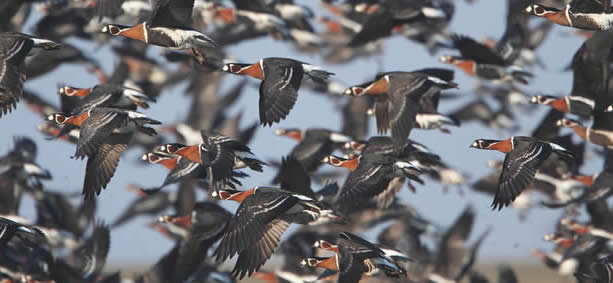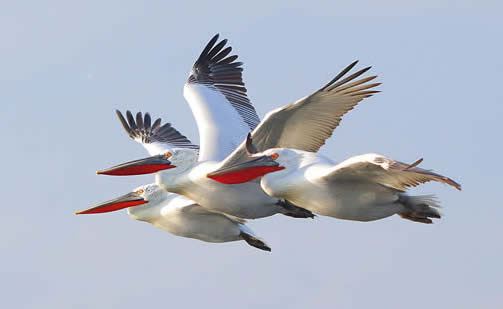 Photos courtesy of Neophron. Red-breasted geese by Mladen Vasilev; sombre tit; Dalmatian pelicans by Dimiter Georgiev.

---

Have I got old news for you? . . . News 2022 . . . News 2020-21 . . . News 2019. . . News 2018 . . . News 2017 . . .  News 2016 . . . News 2015 . . . News 2014 . . . News 2013 . . . News 2012 . . . News 2011 . . . News 2010 . . . News 2009 . . . News 2008 . . . Back to top of this main news page