Lesvos
17 - 24 April 2024
A week on this celebrated Greek island
The third largest island in the Aegean, Lesvos is an island steeped in history, culture and natural beauty. Lesvos, often also known as Lesbos, depending on the Greek translation, is the ancient home of the great story-teller Aesop and the poet Sappho and occupies a prominent position in Greek culture.
Situated in the southern Mediterranean less than 5km from the Turkish coast, Lesvos is magnet for migrating birds as well as supporting an exciting variety of breeding species.
Lesvos is an island of two contrasting halves. The east of the island is clad with olive groves (Lesvos has an estimated 12 million olive trees), pine forest and sweet chestnut woodland while the west of the island is of volcanic origin with spectacular landscapes and home to the famous Petrifed Forest.
We will stay in the Malemi Hotel in Skala Kallonis, a family-run hotel. The hotel has its own farm where they grow vegetables and herbs used for the preparation of food served at their restaurant.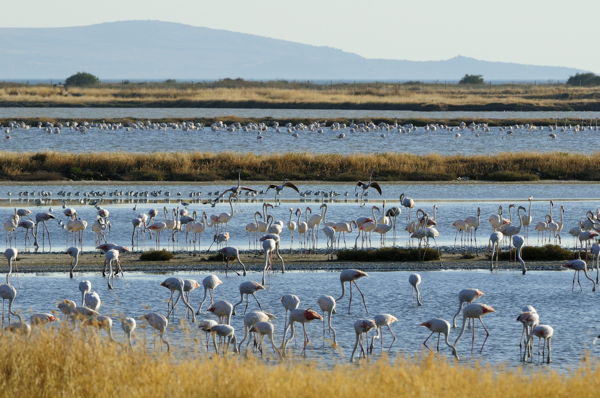 Flamingos on a lagoon at Skala Kalloni (Nick Upton)
Birds
Lesvos is renowned for its spring migration with large numbers of warblers, flycatchers and waders passing through the island. Breeding species include Rüppell's and orphean warbler in coastal scrub and Cretzschmar's bunting, western rock nuthatch and middle spotted woodpecker in olive groves.  We will also see a wide range of wetland birds including greater flamingo, ruddy shelduck and glossy ibis.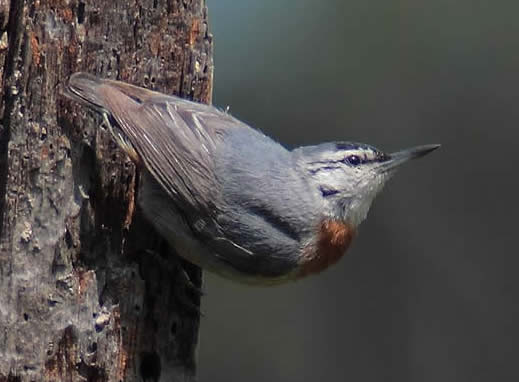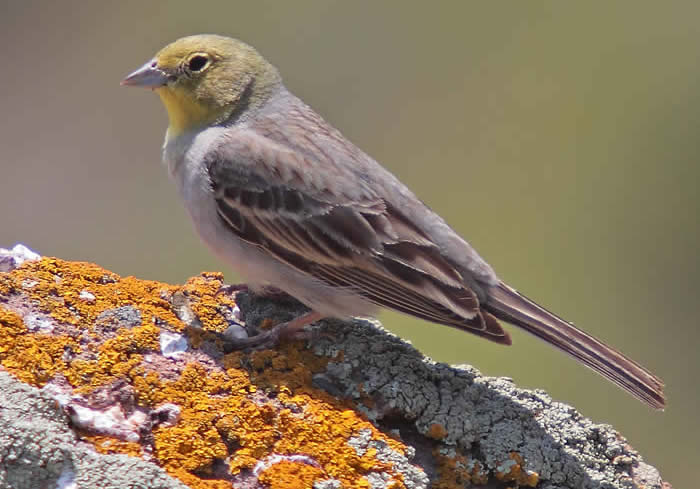 Krüper's nuthatch (Frank Vassen); cinereous bunting (Mark S Jobling), both Wikipedia.
Of special interest are the sought-after Krüper's nuthatch and cinereous bunting, birds of Middle Eastern origin that are very difficult to see elsewhere in Europe.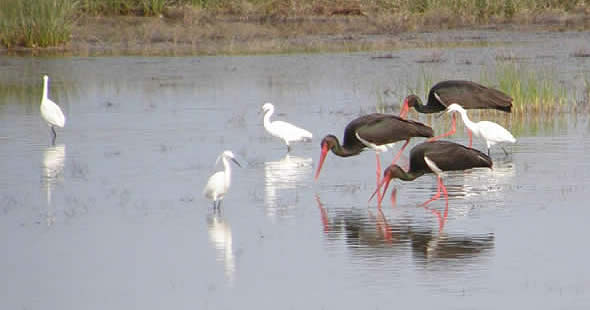 Black storks and little egrets (Jenny Loring).
Flowers
Lesvos has a great botanical diversity with over 1500 species of plants being recorded. Of special mention are the 58 species of orchid, including the rare Komper's orchid, masses of wild anemones, peonies and fritillaries
Other wildlife
Balkan (stripe-necked) terrapins are common in wetland areas and we may also see the rarer European pond terrapin. Balkan green lizards are quite common, as are starred agama lizards. With a bit of searching we may also see the European tree frog. The commonest mammal is the Persian squirrel and we may be lucky enough to see beech marten in the woodlands. Butterflies in spring could include eastern festoon, clouded yellow and both scarce and common swallowtails.
Holiday details
We will start each day with a pre-breakfast stroll around the pool in front of the hotel or a short minibus trip to local birding spots.  We will spend a day around the Kalloni Salt Pans and the pine forest at Achladeri. Longer day trips will be made to the mountain village of Agiassos with its spectacular wildflowers, the north coast around Petra and Molivos, the famous Petrified Forest with its 30 million year old fossilised trees and the migration hotspot of Faneromeni Ford.  The itinerary is deliberately kept flexible so that we can react to local conditions.
Price: £1,700 per person in twin or double room for a full week (Wednesday to Wednesday).
Single room supplement: £160
En suite facilities.
Flights: scheduled Jet2 flights, London Stansted to Mytilini.
Wednesday 17 April: flight LS1647 depart London Stansted 06:00 arrive Mytilini 11:40 (Flight duration 3 hrs 40 mins direct)
Wednesday 24 April: flight LS1648 depart Mytilini 12:30 arrive Stansted 14:20 (Flight duration 3 hrs 50 mins direct)
Deposit: £400
Maximum number (two leaders): 4 - 7 with one leader, or up to 14 with two guides/drivers.
Leader
Rob Lucking lives in a small village near Fakenham in North Norfolk and worked for the RSPB for 23 years, latterly as the Area Manager for North Norfolk, Lincolnshire & The Brecks.
Rob has led and co-led wildlife holidays for Honeyguide to Lesvos and Crete and is now a freelance ornithologist, ecologist, horticulturalist and tour guide. Rob is a trustee (Council member) of Norfolk Wildlife Trust. We'll add co-leader details here if the group is big enough.
Conservation project
Kalloni Bay, adjacent to where we stay, is the one Important Bird Area on Lesvos, as defined by the Hellenic Ornithological Society.  Key species include greater flamingo, ruddy shelduck, black-winged stilt and avocet.
- - - - - - - - - - - - - - -
| | | |
| --- | --- | --- |
| | There is a network of Important Bird Areas in Greece, details of which are on HOS's website. This link takes you through to Kalloni Gulf, by where we stay, and from the map there you can click on adjacent areas on Lesvos. | |