South of Salamanca
6 – 14 May 2024
Spain's Wild West
This holiday visits an attractive yet largely undiscovered part of Spain. Every small town seems to have a castle, church with storks, a bridge over a rocky river, or sometimes all three. In between there are craggy heaths of lavender and broom and wood pasture of narrow-leaved ash or holm oak.
Not far away is an arable area with a remarkable concentration of crop-nesting harriers, plus calandra larks. A little farther afield are hills with a higher altitude mix of flowers and birds such as rock and ortolan buntings.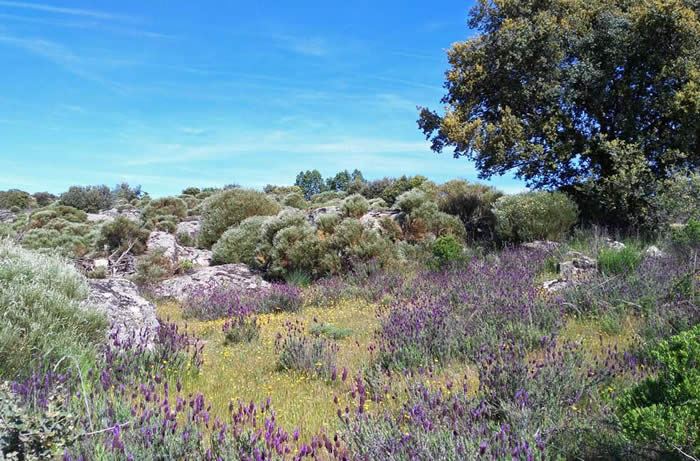 Granite heaths are a feature of the area, with lavender.
Riverside woods have orioles, nightingales and short-toed treeecreepers. There are cliffs with nesting griffon vultures and a few black and Egyptian vultures occur. There are certainly bee-eater colonies.
Our South of Salamanca 2023 group - following up a recce trip in February 2019 - confirmed the area's wildlife interest at a peak time for wildlife in early May. This is all based around guide Vega's local knowledge: her illustrated itinerary 2023 is another useful reference and the plan for 2024 is very similar.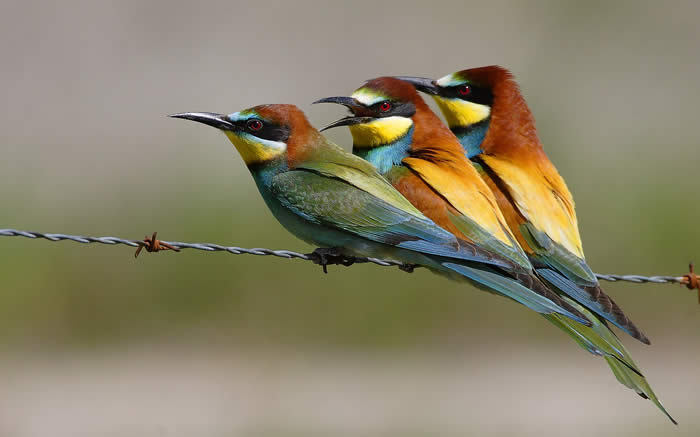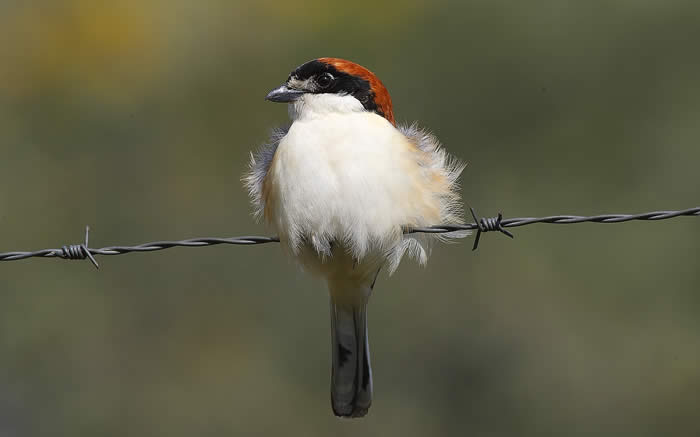 Bee-eater, woodchat shrike (Steve Fletcher).
Salvatierra, where we stay, is very much off the beaten track. To say it's a quiet village rather understates it: parts of the village are little more than rubble as rural depopulation has been sped up by the construction of the reservoir that the hotel overlooks. Yet the undisturbed, low intensity farmland, mostly small fields of sheep pasture surrounded by stone walls, brings wildlife benefits. Thekla larks, rock sparrow and hoopoe can be seen, plus the usual village birds such as black redstarts and serins.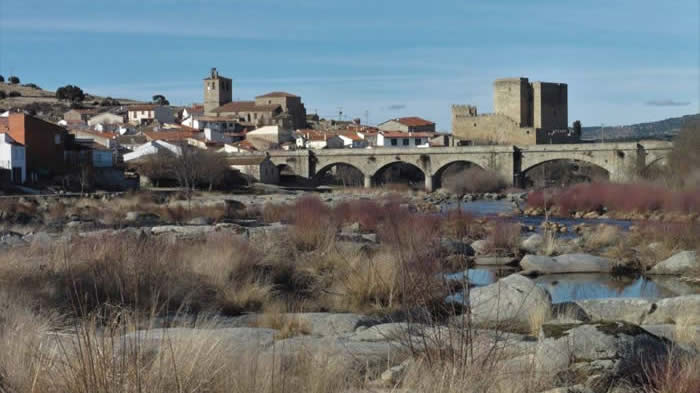 Puente del Congosto: river, bridge, church, castle.
Birds
As well as those already mentioned, we should see a selection of the following: black stork, booted and short-toed eagles, red and black kites, peregrine, raven, blue rock thrush, little owl, Iberian grey and woodchat shrikes, red-rumped swallow, woodlark, Sardinian warbler, Spanish sparrow, cirl and corn buntings and spotless starling.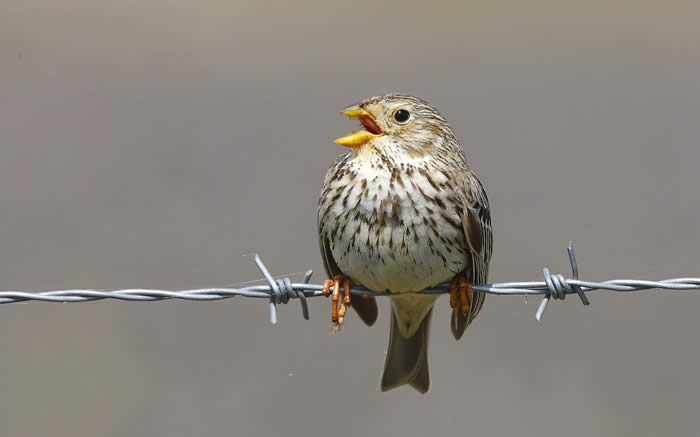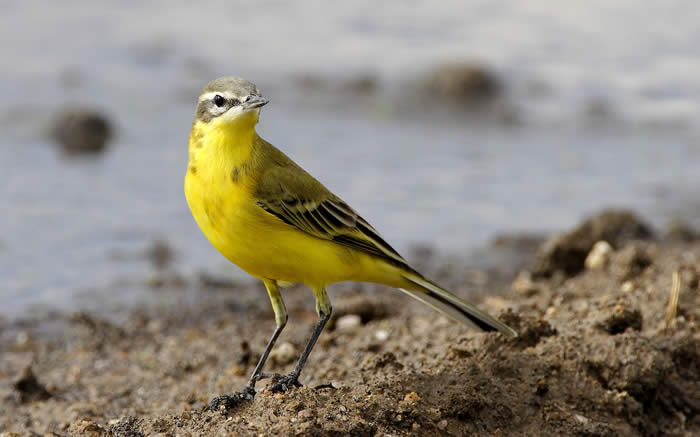 Corn bunting, yellow wagtail (Steve Fletcher).
Flowers
Spanish adenocarpus is a local endemic. Green-winged, early purple, champagne and tongue orchids are all in the area, which chime with what we'd expect, plus asphodels, star-of-Bethlehem and gagea species and hoop petticoat narcissi. There's a range from the rock-rose & cistus family. We can expect some interesting and perhaps tricky toadflaxes: Anarrhinum sp, the tiny amesthyst toadflax and Antirrhinum graniticum.
Other wildlife
Most mammals - there are plenty here - are secretive (such as red squirrel and wild boar) or nocturnal. There are otters on the river in Salamanca, offering good view on the recce trip: whether that's usual or a stroke of luck we don't know. Iberian water frogs and wall lizards are plentiful. Tree frogs, midwife toads, green lizards and sharp-ribbed newts are in the area; best to assume they'll be tricky to see. May is an ideal time to see a good range of butterflies, including Spanish festoon, and other invertebrates.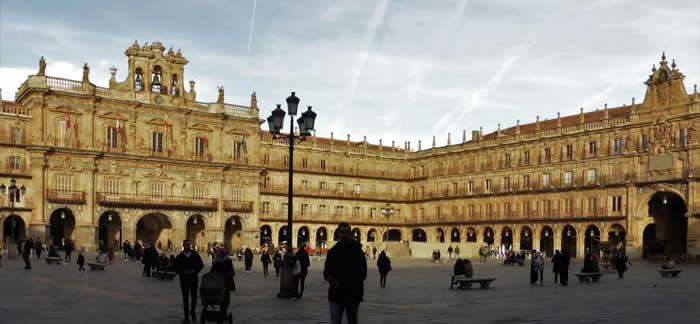 Salamanca, Plaza Mayor (main square)
Holiday details
We have seven days in Spain, plus travel days, allowing time to explore a range of places and habitats at a relaxed pace. The illustrated itinerary adds detail about the plan and wildlife we hope to see.
We stay at Hotel Rural Salvatierra, which has successfully built a business in this rather remote part of Spain. We should note that, despite our best efforts, the hotel is very traditional Spanish in that it serves few vegetables with meals and they will struggle with vegetarian/vegan diets.
Price: £1,850 per person in twin room for eight nights (Monday to Tuesday).
Single room supplement: £130
En suite facilities
Flights: Scheduled Ryanair flights London Stansted – Madrid
6 May: FR2628 depart London Stansted 09:50 arrive Madrid 13:20.
14 May: FR5993 depart Madrid 15:35 arrive Stansted 17:05.
Deposit: £400
Group size: The likely group size is up to 6, with a minimum group size of 4, with one leader Vega Bermejo.
Conservation project
SUPPORTING

Montagu's harriers are declining everywhere, especially in nearby Extremadura, but this area remains a stronghold. They nest in crops – as do other harriers – so safeguarding them means active monitoring and working with farmers. Our local leader Vega is part of the local SEO team doing this.

This adds further to our links to the Sociedad Española de Ornitología (Spanish Ornithological Society / BirdLife Spain), also supported by Honeyguide in Extremadura, the Spanish Pyrenees and Fuerteventura.
Leader
Vega Bermejo from 'Birding in Spain's Wild West' lives locally, though grew up in England. Working as a bird and wildlife guide is based around her knowledge of her local area, though she also looks forward to learning from a Honeyguide group, especially about flowers and other wildlife. She is an active volunteer with the local SEO/BirdLife Spain group, concentrating on safeguarding Montagu's hariers and other crop-nesting raptors. Vega has a minibus for local transport and Alfonso, Vega's husband, will also be on hand to assist with his vehicle; they'll use a local taxi service for airport transfers.