Bulgaria, the Western Rhodopes
18 – 25 June 2015
Conservation Project
The Rhodope lily Lilium rhodopaeum is a very scarce flower of the Western Rhodopes. It's found on just a handful of sites in Bulgaria and just over the border in Greece, about half of which have no official protection. Our local leader, Vlado, is the Bulgarian authority on this spectacular endemic, and with our help leads on its monitoring and conservation.
Donations in 2014: we followed the pattern of 2012 (as detailed below) by splitting the donations between BSPB and Vlado Trifonov. For BSPB (£200), this will fund meetings with local stakeholders as BSPB continues to lobby to get Tzigansko Gradishte designated for nature conservation. For Vlado (£340) it will fund two years of monitoring and mowing at the location (we are still withholding the name) visited by Honeyguiders.
| | |
| --- | --- |
| In 2012, the conservation contributions from our holiday raised £400 and we have doubled this to £800, using some unallocated funds in the Charitable Trust's account, raised by the Wildlife Outreach Network (more here). | |
£500 was sent to The Bulgarian Society for the Protection of Birds, the BirdLife partner in Bulgaria, which also has a wider biodiversity remit. This supports BSPB in finalising the designation of Protected Area Tzigansko Gradishte - a Lilium rhodopaeum site - as part of the Natura 2000 network of internationally important wildlife sites. It will cover travel and communication costs for meeting and getting support from local people and authorities, and for the final public hearing.
£300 goes to Vladimir Trifonov. Vlado is the botanist who co-leads Honeyguide groups, and his job title is 'Chief Expert, Biodiversity and Protected Areas', for the Ministry of Environment and Waters, based at the Ministry's regional inspectorate in Haskovo. Vlado will be monitoring the privately-owned site - at a secret location that we won't name - where the 2012 group saw Lilium rhodopeaum. That will include clarifying ownership and, if possible, arranging management of the meadow.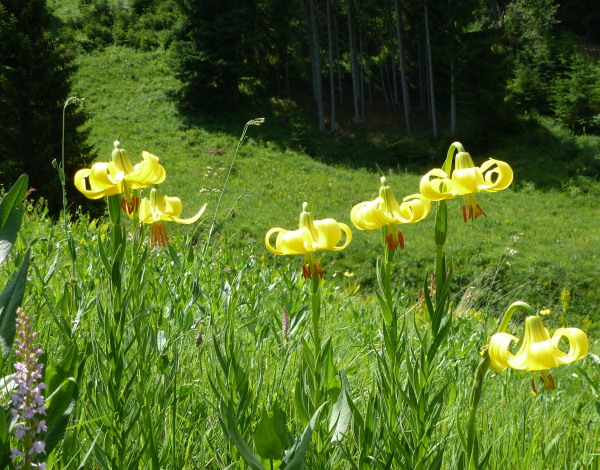 Lilium rhodopeaum, June 2012. There is also a fragrant orchid in the bottom left of the photo.
Donations 2009-2011
In previous years, our donations to BSPB have supported the Poda Nature Protected Site. Close to the city of Bourgas, the coastal lagoon is a key staging ground for water birds during migration and in winter it hosts thousands of pygmy cormorants. It has a fine heronry and the only breeding colony of spoonbills along the Bulgarian Black Sea coast.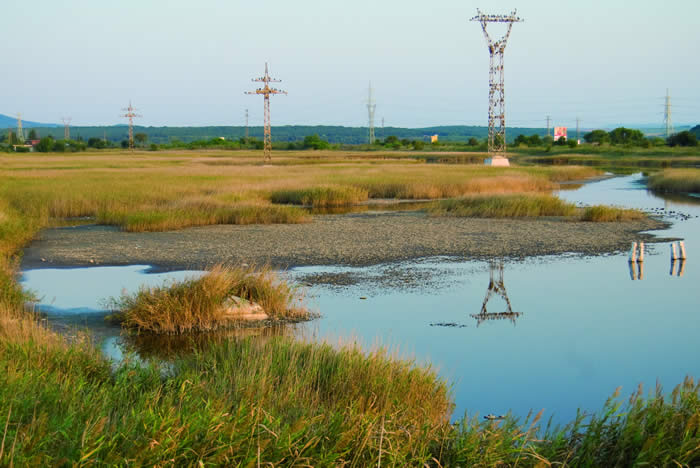 Poda Nature Reserve (Neophron). The wires have been taken away from the pylons in the picture and cormorants now nest and sit around on them.