Picos de Europa
Flowers, butterflies and mountain wildlife amid stunning scenery
The Picos de Europa is a small but spectacular range of jagged limestone mountains in northern Spain. Here traditional methods of livestock farming allow wildlife to flourish alongside mankind, resulting in an incredibly diverse range of flora and fauna.
A pincushion of knife-edged ridges and pinnacles – the heritage of localised glacial activity and ongoing karstification – peaks at 2,648m (Torre Cerredo) and is split into three distinct massifs by precipitous gorges, carved out by the southernmost salmon rivers in Europe. In part a national park of 64,660 hectares, the Picos de Europa houses more than 1,500 species of plants, 70 or so mammals and 154 butterflies, such that even a brief visit in early summer will make a lasting impression.
In June, the hay meadows of the Picos de Europa are simply glorious. Acknowledged as being among the most species-rich Atlantic grasslands in the world, they teem with orchids and butterflies. Add to this the delights of alpine rock-gardens and high-level acid peat bogs, plus the diversity of woodland types in surrounding valleys – Mediterranean evergreen forests, cool humid swathes of beech and sessile oak, mixed deciduous canopies of ash, wych elm and small-leaved lime and extensive tracts of Pyrenean oak – and you have the recipe for an ideal natural history holiday.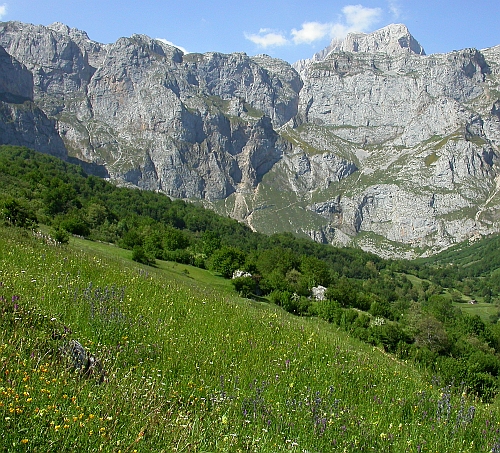 Fuente De from Fuenfría
Flowers
Deep-azure gentians and almost-black pasque flowers are just some of the delights in store during the week. There are many wildflowers once common in the British Isles but rarely seen today, such as spotted rock-rose, rock cinquefoil, ground-pine, greater yellow-rattle, round-headed leek and whorled Solomon's-seal. Here too grow some 50 species of orchids, of which we can expect to see at least half during our stay, including early spider and woodcock ophrys, and lizard, pink butterfly and elder-flowered orchids. We should also encounter several plants that are unique to the Picos de Europa, notably the stunning yellow-flowered saxifrage Saxifraga felineri.
Butterflies and moths
Among the 70-odd species that we might see at this time of year are both swallowtail and scarce swallowtail, black-veined white and Provence orange-tip, Duke of Burgundy, sooty copper, Spanish purple and blue-spot hairstreaks, blues such as turquoise, green-underside and mazarine, many early fritillaries, including pearl-bordered, Glanville and marsh, and red-underwing, Oberthür's grizzled and chequered skippers. Day-flying moths might include fiery clearwing and several species of burnet moth, and there will also be the opportunity to put out a moth trap on Teresa's terrace in the evenings, which usually attracts several eye-catching species of hawkmoths, cream-spot and Spanish tigers, and many more.
Birds
The Picos de Europa supports healthy raptor populations, some 500 griffon vultures as well as a score or more pairs of Egyptian vultures. The eagles are represented mainly by golden, short-toed and booted, the last two in fair numbers throughout, with honey buzzard and goshawk in forested areas. Black kites are particularly abundant, hobbies occur in drier habitats and peregrines are regularly seen preying on choughs around higher crags. Middle spotted and black woodpeckers and citril finches are also possible in the forest habitats, with red-backed shrikes, citril finches and rock buntings in the meadow-scrub mosaic. Above the tree-line, birds include snowfinch, alpine accentor, rock thrush and both red-billed and alpine choughs, not to mention wallcreeper, on which front we are rarely disappointed.
Other wildlife
Although mammals are difficult to spot during the day, we should encounter southern chamois (isard) at altitude, with roe deer, red squirrel and wildcat possible at lower levels. A good range of reptiles and amphibians can be observed in June, including large psammodromus, Schreiber's green, western green and ocellated lizards, alpine and marbled newts and midwife toad; Seoane's viper can be found in upland heaths.
Holiday details (2012)
We will explore all the main habitats of the Picos de Europa, walking a maximum of 5km per day, allowing plenty of time for plant and animal observation, identification and photography. Most of our destinations lie within half an hour of the hotel, although if the weather is poor we might head south over the Cordillera Cantábricato visit the high limestone plateaux of northern Castile, for an entirely different flora and fauna. Our hotel is the Posada El Hoyal in Pesaguero, just a few yards from holiday leader Teresa's house.
Price: £1,390 per person in twin room fora full week (Wednesday to Wednesday).
Single room supplement: £130
En suite facilities
Flights: Scheduled Ryanair flights Stansted to Santander
Deposit: £200
Maximum number (two leaders): 14
Leaders
Teresa Farino is a naturalist with a special interest in the wildflowers, butterflies and moths of the Iberian Peninsula. Born in London, she has been living in the Picos de Europa since 1986 and has been leading wildlife holidays to many Spanish and Portuguese destinations for more than twenty years. During this time she has written a number of widely acclaimed books about the wildlife of Spain.
John Muddeman comes from Suffolk but lives in Madrid. After varied conservation and research jobs, he moved to Spain to teach English and lead wildlife holidays. He wrote 'A Birdwatching Guide to Extremadura', where he used to be a Honeyguide leader, and his wide natural history skills and fluent Spanish make him well equipped to return to the Honeyguide team in the Picos.
Conservation project
| | |
| --- | --- |
| Our hotel lies within a designated brown bear protection area, and we might even see signs of their passage – footprints or scat – during our stay. Field agents of the Fundación Oso Pardo work hard studying and protecting the Cantabrican brown bear populations and their habitat, and their efforts have been rewarded in recent years by the presence of at least three females with cubs in our beleaguered eastern nucleus. | |