Crete
9 - 17 April 2024
Island birds and flowers in the cradle of civilisation.
A week plus a day on Crete in 2024 (as in 2023)
Crete is a magical and mysterious island. Home of Europe's earliest civilisation, influenced by many nations, yet it retains its own identity and culture of which its people are justifiably proud.
The island's position in the Mediterranean has not only played a crucial role in its history but is an important migration route for birds on their way north in spring. Crete in April is free of crowds, the days can be warm and the hillsides are full of flowers.
This, the largest and most southerly of all the Greek islands, is dominated by a backbone of mountains through which cut many deep gorges. These are as spectacular as they are rich in wildlife, be it migrant birds, nesting vultures or endemic wild flowers.
Nature and history are difficult to separate on Crete, with wildlife close to important archeological sites. We shall sample Minoan ruins at Phaestos.
We are based at the small and friendly Sophia Hotel in Plakias on Crete's south coast, once a fishing village, now a small town. It is ideally placed for local walks and excursions and has an impressive backdrop of gorges and mountains.


Plakias Bay (Ivan Nethercoat).
Flowers
Crete's rich flora of 1600 native species includes 140 endemic to the island, such as Cretan cyclamen and Cretan ebony. In April many orchids are at their peak with Cretan bee, naked man, few-flowered, rainbow, four-spotted and bumblebee orchids among 20 or more species. Shrubs like Jerusalem sage and cistus contribute to colourful and aromatic hillsides.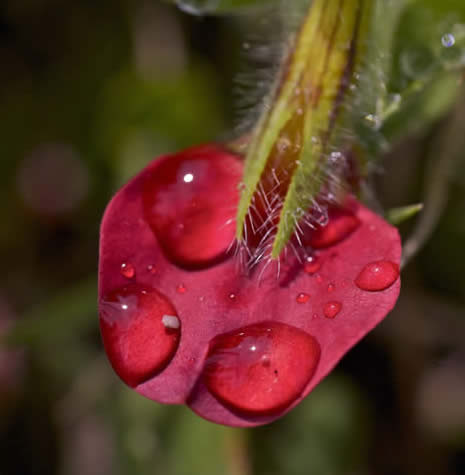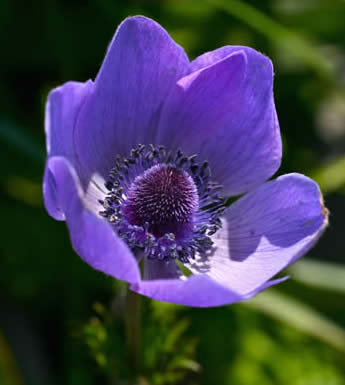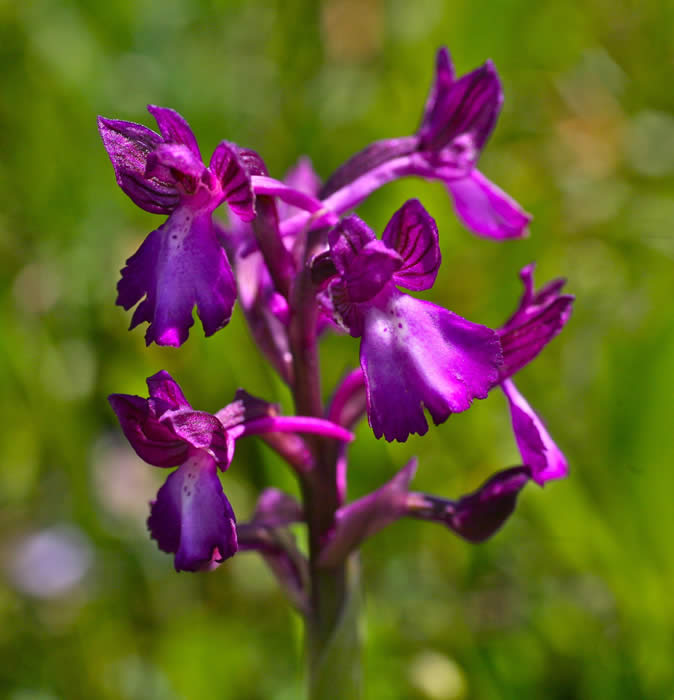 Left to right: asparagus pea, crown anemone, Orchis boryi (all by Phil Brew).
From Cretan flora through a macro lens. See also our Crete orchids page.
Birds
The mountains and gorges of Crete are a stronghold for birds of prey, with the largest population of griffon vultures in Greece. Lammergeier, Bonelli's and golden eagles and buzzard all breed, as do crag martin, blue rock thrush, chough and raven. The hillsides and scrub support both Sardinian and the much rarer Rüppell's warbler. Many birds pass through on migration, pausing especially at wetlands, however small. These might include red-footed falcon, alpine swift, bee-eater, squacco heron, little bittern and various waders and warblers.
Other wildlife
At this time of the year there are butterflies such as swallowtail, scarce swallowtail, Cleopatra and the endemic Cretan festoon. We often see freshwater crabs; reptiles can include Balkan (stripe-necked) terrapin and Balkan green lizard.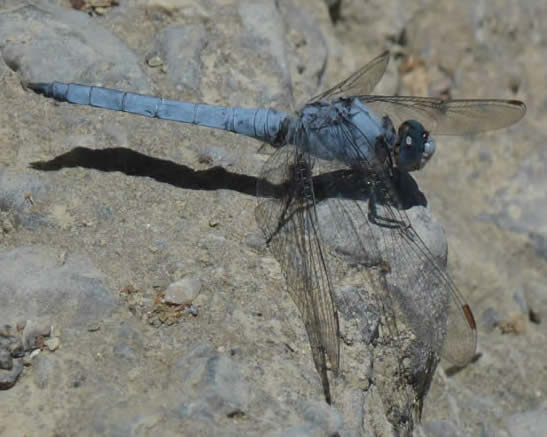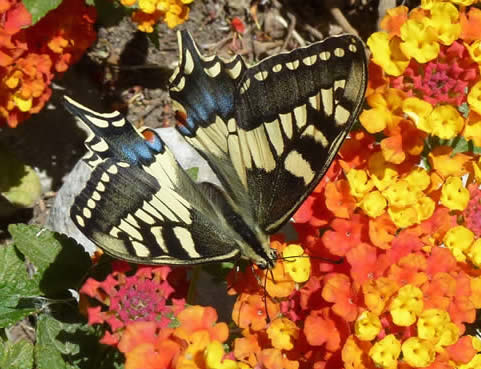 Southern skimmer Orthetrum brunneum and swallowtail on lantana, both near Moni Préveli, spring 2016.
Holiday details
As well as local walks, our minibus trips this week include trips to Moní Préveli, Kourtaliótiko and Kotsiphou Gorges, Frangokastello, Spili, Ayia reservoir and, possibly, the mountain plateau at Omalós.
Price: £1,850 per person in single or twin room, for a week plus a day (eight nights, Tuesday to Wednesday). There is no single supplement on this holiday. This price includes our taverna evening meals, plus picnics or an occasional taverna lunch.
En suite facilities
Flights: easyJet flights, Gatwick to Chania (morning outbound flight).
9 Apl: EZY8223 depart London Gatwick 08:00 arrive Chania 14:00.
17 Apl: EZY8224 depart Chania 14:50 arrive Gatwick 17:00. 
Flights from Manchester to Chania with Ryanair may be possible. The flights are unlikely to tie in exactly with the Gatwick flights, though arrangements can be made.
Deposit: £400
Maximum number: 14, with two leaders.

Conservation project
The lammergeier conservation project is run by the Hellenic Ornithological Society, BirdLife Greece.
Crete has the only breeding population in south-east Europe (6-7 pairs in 2013, with four nests); the species is practically extinct in mainland Greece and elsewhere in the Balkans.

Lammergeier (Roger Tidman)
Alongside survey, monitoring and raising public awareness, the long-term survival of Europe's rarest vulture is being tackled by site protection, food provision and the encouragement of traditional grazing systems. More on lammergeiers and other conservation matters on Crete here.


Ricotia cretica in Kourtoliótiko Gorge.

Leaders
Chris Durdin is the driving force behind Honeyguide, running holidays since 1991. For many years he combined this with his work for the RSPB in Eastern England, often the Society's spokesman, but has been concentrating on Honeyguide full-time since 2009. Chris is the co-author of a book about Norfolk's cranes and leads regular walks on his local wildlife trust nature reserve, Norfolk Wildlife Trust's Thorpe Marshes. He's also a barbershop singer. As a naturalist, Chris is an all rounder. Chris has regularly co-led Honeyguide's Crete holiday for many years.
Rob Macklin was previously the RSPB's area manager on the Suffolk coast, covering Minsmere and North Warren among several nature reserves. He now lives in Devon and uses his years of experience in nature conservation as an environmental consultant. He has co-led our Crete holiday in several occasions.

Rob Macklin, photographed in Portugal, where he regularly co-leads our holidays.


Crown daisies, both colour forms, Crete, April 2018.